Current Events:
The 2011 Egypt Protests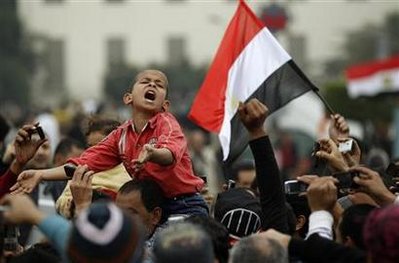 ---
Soccer Deaths Have Cairo Streets Boiling Over Again
February 5, 2012

The situation is deteriorating yet again in Cairo, where protesters have set a government building on fire and police have resorted to tear gas to disperse people gathered in the streets. Many protesters clashed with police outside the Interior Ministry over the deaths of 74 people at a Port Said soccer stadium.

El-Baradei Leaves Presidential Race
January 16, 2012
The Egyptian presidential race is without a big-time name, as Mohamed El-Baradei has withdrawn from contention. El-Baradei, a Nobel Peace Prize winner and longtime critic of the Egyptian government, says he has withdrawn his name because he believes that the ruling military council will still be in charge. An early advocate of the ouster of Mubarak, El-Baradei has been outspoken in his opposition to the generals now running the country.

Mubarak Prosecutors Formalize Call for Death Penalty
January 9, 2012
The trial of former Egyptian President Hosni Mubarak has resumed, with prosecutors and civil rights lawyers calling for the death penalty. Mubarak, old and frail and attending his trial on a hospital bed, is accused of ordering troops to fire on protesters.

Mubarak Trial Resumes as Egyptians Vote
January 2, 2012
Under the shadow of the resumption of trial for former President Hosni Mubarak, Egyptians voted in the tens of thousands in the third and final round of parliamentary elections.

Egyptians Vote in Peaceful Droves
November 27, 2011
After 10 days of violence, Egypt's larger northern cities were calm, as people in the tens of thousands waited in long lines to vote for their new government.

As Egyptians Vote, a Look Back
November 28, 2011
Egyptians went to the polls in record numbers. Retrace their journey, beginning with the first protests in the streets of Cairo.

Egyptian Council Names New Prime Minister
November 26, 2011
Reaction to the choice of Egypt's latest interim prime minister continues to be mixed, with the ruling military council in favor of it and the protesters in the streets very much opposed.

Egyptian Rulers Promise Referendum on Power Transfer
November 23, 2011
Egypt's ruling military council promised a referendum on the transfer of power to a civilian government, but the thousands of protesters in Cairo's Tahrir Square and elsewhere continued to voice their preference for the military to give up its power now.

Egyptian Government Resigns Amid Violence
November 22, 2011
In the wake of the most intense protests since the last days of Hosni Mubarak's presidency, Egypt's government resigned as a group, hoping that their exit would help ease tensions in Cairo's Tahrir Square and elsewhere around the country.

Violence Returns to Tahrir Square as Elections Loom
November 19, 2011
Just nine days before the first truly representative elections in Egypt in a long time, police resorted to firing tear gas into a crowd in Cairo's Tahrir Square, injuring more than 500 people.

Egyptian Government to Retain Power After Elections
October 16, 2011
The Egyptian transitional government is more and more the focus of further protests, as tensions continue to build over street violence and two members of the ruling Supreme Council of the Armed Forces recently announced that they would remain in power even after parliamentary elections scheduled for November.

Violence Grips Egyptian Streets as Government Urges Calm
October 12, 2011
Egyptians in government and on the streets are no closer to a common understanding of the issues and problems facing the nation in the wake of the extraordinary revolution that ousted President Hosni Mubarak.

New Egyptian Protests Grow Violent
October 10, 2011
Tahrir Square is again ablaze, this time literally, as clashes between Christians and Muslims have erupted into the full-blown violence of a riot. Armed security forces, including not only 1,000 soldiers but also scores of armored vehicles, were called to the scene, and the resulting chaos ended in 24 deaths and 200 people injured.

Egyptian Military Seeking Greater Control
July 20, 2011
Conflict between the ruling military council and the protesters in the streets continues to grow in Egypt. Protesters, impatient with what they perceive to be the slow pace of reform, have taken to Tahrir Square and other public places in growing numbers in recent weeks, amid calls for the Supreme Council of the Armed Forces to continue on the path to true democratic government. But the ruling generals have other ideas in mind.

Egyptian Prime Minister Hospitalized
July 19, 2011
The medical and political difficulties continue in Egypt, as Prime Minister Essam Sharaf entered a hospital in Cairo and ended up being diagnosed with blood pressure problems.

Violence Echoes Across Cairo Again
June 29, 2011
Violence has returned to the streets of Cairo, as protesters impatient with the slow pace of change have vented their frustration by throwing stones at police, who have responded by firing tear gas into the crowds.

Muslim Brotherhood Joins Other Parties' Efforts; Mubarak Suffering from Cancer
June 22, 2011
Seeking to reassure its likely political opponents of common goals, Egypt's Muslim Brotherhood has joined with 17 other political parties in a common statement of goals for the country's September parliamentary elections.

Formal Charges Filed Against Mubarak
May 24, 2011
In a few short months, Egypt's Hosni Mubarak has gone from president of the country, wielding enormous power, to a detainee facing criminal trial. The country's prosecutor general has announced that Mubarak would be, possibly as early as June, tried on charges of corruption and of ordering attacks on unarmed protesters. If convicted, he could face the death penalty.

Egypt to Reopen Churches to Help Ease Sectarian Violence
May 10, 2011
In an effort to prevent future religion-based clashes in the streets, the Egyptian military-led government has announced that it will consider reopening up to 48 churches that were closed during the reign of former President Hosni Mubarak.

Mubarak Could Face Death Penalty, Justice Minister Says
May 1, 2011
Former President Hosni Mubarak could face the death penalty if he is convicted of crimes he is charged with, according to Egypt's new justice minister, Mohammed el-Guindi.

Mubarak, Sons Detained to Face Investigation
April 13, 2011
The Egyptian public prosecutor's office has been busy rounding up former top officials of late, with the latest group including former President Hosni Mubarak himself.

Mubarak, Called to Answer, Ends Up in Hospital
April 12, 2011
Hosni Mubarak, the most recent president of Egypt, is not alongside his sons who are being questioned by the country's public prosecutor in connection with a corruption investigation because he is in the hospital suffering from heart problems.

Egyptian Government 'Regrets' Crackdown
April 11, 2011
The relatively newly appointed Egyptian prime minister, Essam Sharaf, said the government felt "regret" for the violent crackdown that resulted in two deaths and several injuries, and he promised to launch an investigation into the chain of events that ended in the bloodshed.

Mubarak Speaks as Protesters Fill Tahrir Square Again
April 10, 2011
The protesters are once again ensconced in Cairo's Tahrir Square, with numbers as big as before. Their target is now the current leader of the government.

Egyptian Rulers Warn Soldiers Not to Protest
April 7, 2011
Another large protest is planned in Cairo's Tahrir Square, but military officers in uniform are being warned to stay away. The protest is to voice disappointment with the speed and transparency of the changes being made by the ruling military council.

Radical Takeover Not Imminent, Egyptian Rulers Say
April 5, 2011
Egypt will not be taken over by radical groups, the ruling military council announced on Tuesday during a meeting with officials from the country's news agency and major newspapers.

Egyptian Rulers Set Term Limits for President
March 30, 2011
Egypt's ruling military council announced more details for the country's September parliamentary elections. Among the details was a provision for term limits for the President of two four-year terms.

Egyptian Rulers Set Elections, Vow to Lift Emergency Laws
March 29, 2011
In a flurry of announcements, the military rulers of Egypt set out the country's immediate future, one that many protesters can be happy with, at least in the long term.

Interior Ministry Burns as Police Stand by and Protest
March 22, 2011
The Egyptian people have approved historic changes to the constitution, but widespread unease remains on the streets of Cairo and in other cities. The latest evidence of this is the burning of the headquarters of the Interior Ministry.

Egyptians Overwhelmingly Approve Constitutional Changes
March 20, 2011
The changes in the constitution suggested by the Supreme Council of the Armed Forces will go forward, after a resounding vote of confidence by the Egyptian people. In a referendum, more than 77 percent of voters approved of the constitutional changes. Of Egypt's 45 million voters, 41 percent cast ballots.

Egyptian Government Disbands Secret Police
March 15, 2011
The Egyptian temporary government, the Armed Forces Supreme Council, took action that was certain to impress the opposition, announcing the dismantlement of the security police that had been the target of nearly as much outrage as President Hosni Mubarak himself.

Egyptian Prime Minister Resigns as Representations of Mubarak Dwindle
March 3, 2011
Egypt has a new prime minister, the first of what could be a series of moves by the ruling military to answer the concerns of the tens of thousands of people whose protests resulted in the resignation of President Hosni Mubarak.

Cameron Visits Egypt as Mubarak Assets Frozen
February 21, 2011


President Hosni Mubarak will continue to suffer monetarily, as now his foreign assets will be frozen, at the request of the country's top prosecutor. The news comes in the wake of meetings between British Prime Minister David Cameron and Egypt's Defense Minister, Hussein Tantawi, and Prime Minister, Ahmed Shafiq.

Unease Grows as Egyptian Protests Continue, Fragment
February 16, 2011
The situation in Egypt is getting more and more unsettled, with the focus of protests fragmenting and the ruling military council continuing to try to halt sweeping labor action that threatens to further paralyze the country. Protesters have planned another large march in Cairo for Friday.

The military group now running Egypt is urging the country's citizens to get back to work, with the knowledge that constitutional reform is just around the corner.

Egyptian Army Dissolves Government, Constitution
February 14, 2011
Egypt is entirely under military rule, after the Armed Forces Supreme Council announced that it had dissolved parliament and suspended the constitution.

Egyptian Army Continues on Peaceful Path
February 13, 2011

Egyptian Army Maintains Calm at the Top
February 12, 2011
The Egyptian army, now firmly in control of the country, has promised to keep the current government in place until concrete steps can be taken toward constitutional reform.

Mubarak Leaves, Fully
February 11, 2011
In the wake of protests by hundreds of thousands of people, not only in Cairo but across the country, Hosni Mubarak has finally given up the one thing he held most dear: his presidency.

Mubarak's Friends, Options Dwindled
President Hosni Mubarak found during the nearly three weeks of protests against his autocratic rule that his friends at the top of the world's governing ladder grew fewer and fewer. He had promised support from Saudi Arabia's ruler, King Abdullah, as late as February 9, but that in the end wasn't enough.

Mubarak Yields Power, Partly
February 10, 2011
Hosni Mubarak is still president of Egypt. That much is certain. What is not certain is what kind of powers he still has and whether he will leave the country or the seat of government before elections in September.

Egyptians Go on Strike En Masse
February 9, 2011
Cities across Egypt were awash in labor activity — or inactivity. Workers in the thousands refused to go to work, continuing their protest against President Hosni Mubarak and his government.

Massive Crowd Fills Cairo Square Despite Concessions
February 8, 2011
The crowd in Cairo's Tahrir Square numbered much more than 100,000, their numbers swelled by tales of detention and the addition of two of the country's most famous faces. They continued to chant and sing patriotic songs and themes.

Mubarak Offers 15 Percent Pay Increase
February 7, 2011
Egyptian President Hosni Mubarak was out in front of things, offering to increase the salaries of public sector workers by up to 15 percent. He also made news by meeting his new cabinet, having fired the previous government in the wake of the massive protests engulfing his country's capital city.

Government Offers Big Concessions
February 7, 2011
The Egyptian government, at the instigation of Vice President Omar Suleiman, has offered major concessions to opposition groups, in an attempt to placate the large crowds of people who continue to gather in Cairo's Tahrir Square and elsewhere around the city and country.

Party Leaders Resign
February 6, 2011
Six members of the ruling National Democratic Party, including the secretary-general and the son of President Mubarak, have resigned.

Massive Protests Continue in Egypt
February 5, 2011
For the 11th straight day, huge masses of people rallied in Cairo, the Egyptian capital, protesting against the government of President Hosni Mubarak.

Hosni Mubarak: Egypt's Longest-serving President
He became president in 1981 and served until stepping down in 2011.