Egyptian Army Dissolves Government, Constitution
---
February 13, 2011
Egypt is entirely under military rule, after the Armed Forces Supreme Council announced that it had dissolved parliament and suspended the constitution. Rather than the preliminary step in a coup, this is what appears to be a move toward a more representative government, the recognition of two key demands of the protesters that gathered by the tens of thousands in Cairo's Tahrir Square for nearly three weeks to voice their disapproval with the government of President Hosni Mubarak.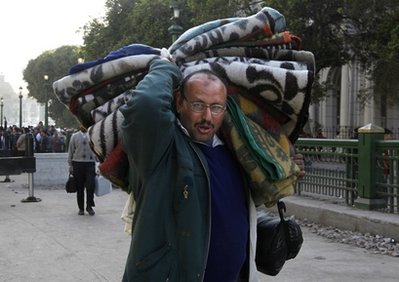 Mubarak has now fled the government and the capital, leaving behind a newly appointed Cabinet, including Vice President Omar Suleiman, to pick up the pieces. That Cabinet will remain for the next few months, until new elections take place across the country. Mubarak had promised to stay on as president — even though he had ceded all his presidential powers to Suleiman — but the overwhelming preference of the swelling protests not only in Cairo but across the country was that Mubarak, as the symbol of the oppression that the people felt, must go.

He left in his wake a sea of protesters in Cairo and smaller groups of protesters elsewhere, still demanding the removal of the country's repressive emergency laws, which give police broad powers of arrest and interrogation and also rmake it relatively easy for the government to control the country's streets and messages to the world. Police and the army have largely stood by and watched as the protests have grown in size and intensity. Looting has been evident but sporadic. (In particular, some precious treasures from the Egyptian Museum, including some very rare artifacts from the tombs of King Tut and Akhenaten, are missing.) Altercations have become violent, and hundreds of people have been killed, with many more injured. However, with some of the Tahrir Square protest numbers topping 200,000, nothing in the realm of a bloodbath has occurred.


The army has begun to dismantle tents slept in by protesters in Tahrir Square. Soldiers are urging protesters to go home or return to work. Labor strikes are still on, and banks have been closed in response. The government has released a number of political prisoners and also, more importantly, reaffirmed the country's relationships with its neighbors, particularly Israel, and with the rest of the world.

Nonetheless, people are on edge. Egypt has been ruled by the military before, most recently in 1952. Without a constitution, the Egyptian people technically have no recourse if soldiers and police decide to insist on order in the streets and in the homes. Still, many watchers see the writing on the wall, not only for Mubarak's government but also for the governmental structure itself.

Social Studies
for Kids
copyright 2002-2014,
David White
---