Mubarak Offers 15 Percent Pay Increase
---
February 7, 2011
Egyptian President Hosni Mubarak was out in front of things, offering to increase the salaries of public sector workers by up to 15 percent. He also made news by meeting his new cabinet, having fired the previous government in the wake of the massive protests engulfing his country's capital city.

Mubarak had meetings with his newly named top advisers, including Vice President Omar Suleiman, appeals court head Sari Siyam, and speaker of parliament Fathi Surur. The result was a promise to set up a committee to examine possibilities for constitutional amendments.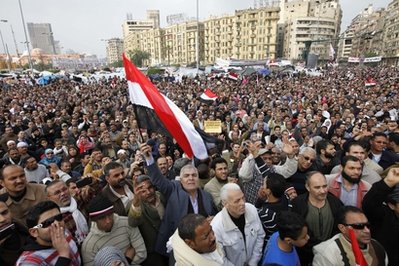 None of that seemed to matter to the tens of thousands of people still occupying Tahrir Square, in Cairo, where they have been for nearly two weeks now. Fearing a ploy by the army to rein in the now sprawling group, many people slept or sat underneath tanks, directly in the line of the machines' wheels. The army has so far refused to fire on protesters or harass them in any overt way. Soldiers have taken opportunities, however, to keep the peace by keeping the protesters within the general area of the square.

Cries for Mubarak to step down continue to emanate from the crowds, as did calls for more visibility from Suleiman, the first vice president Mubarak has ever appointed. Suleiman, for his part, refused to agree to an opposition demand that he stand in for the president if the latter leaves before the elections scheduled for September. Mubarak has warned that his stepping aside now would result in chaos because a succession plan has not been properly thought out.

That same note of concern has been voiced by other world leaders, including U.S. President Barack Obama and Secretary of State Hillary Clinton, who nonetheless insist that Mubarak stand aside eventually, to make way for more democratic governmental reforms. Mubarak, once a ruler popular in the west for his friendly policy toward Israel, is finding few friends these days.

Social Studies
for Kids
copyright 2002-2014,
David White
---