Egyptian Party Leaders Resign
---
February 6, 2011
Protestors in Cairo's Tahrir Square have taken some comfort from the latest announcement from the beleaguered Egyptian government: the resignation of top officials from the ruling National Democratic Party. Among the six-member party Steering Committee to resign were Safwat el-Sharif, the party secretary-general, and Gamal Mubarak, son of President Hosni Mubarak and a onetime possible successor. The President, however, remains in power.

The crowd in the square remained at about 100,000, many having been there for more than a week.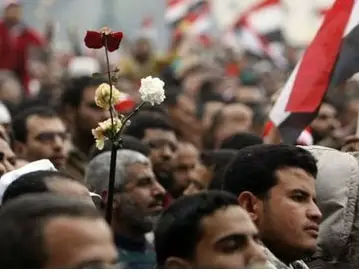 Sporadic conflicts between government protestors and Mubarak supporters continued to flare up. Also, for the first time, signs of army impatience appeared.

Mubarak had ordered tanks and soldiers to surround the square but not to fire on protestors. That order has remained in place, but tanks have flattened some burned-out vehicles that protestors had used as barricades in recent fights with pro-Mubarak forces. In a few cases, tanks stopped only when protestors sat on the ground between the tanks and the burned-out vehicles.

One other report was of soldiers attempting to stop food and supplies from reaching protestors who had camped out in Tahrir Square, either by turning back the people delivering the food and supplies or demanding a share of it for safe passage.

Despite worldwide pressure to step down immediately, Mubarak remains in power.

Social Studies
for Kids
copyright 2002-2014,
David White
---