Energy-poor Venezuela Mandates Blackouts, 2-day Workweek
April 27, 2016
Venezuelans will be in the dark, off and on, for awhile, as a result of a severe energy shortage. Across the country, rolling blackouts of four hours or more are now the norm. Residents in one city that endured a 12-hour blackout turned to the streets to vent their frustration, leading to several arrests. President Nicolas Maduro has declared a two-day workweek for government employees, who will see their weekends grow to include Wednesday, Thursday, and Friday. In addition, primary schools will also shut their doors on Fridays.
Sidewalk Traffic Lights to Aid Smartphone-obsessed Pedestrians
April 27, 2016
Things are looking up for people who spend a lot of time looking down. The German city of Augsburg has installed traffic lights on the ground, so the lights are more visible to pedestrians who might be paying so much attention to their smartphones that they don't look up to see existing traffic lights. Augsburg city officials said that they were prompted to act after the death of a 15-year-old girl who was so distracted by looking at her smartphone that she didn't look before she crossed the street and was killed by a tram. Other cities in other countries have reported similarly tragic stories.
Clinton, Trump March Emphatically On
April 26, 2016
Donald Trump widened his delegate lead considerably by winning all five Republican Party primary elections on offer, while HIllary Clinton won four of the five states' Democratic elections. Bernie Sanders won one state. Each winning candidate garnered more than half of all votes cast in each of the states that they won.
Prince Charles Takes to Stage to Mark Bard's Legacy
April 23, 2016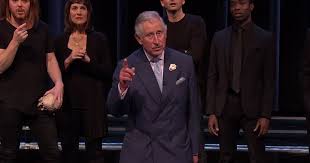 People around the world celebrated April 23 as the 400th anniversary of the death of William Shakespeare, reveling in the legacy of the man whom many people consider the world's most well-known playwright. Celebrations were particularly keen in Stratford-upon-Avon, with many famous present and past members of the Royal Shakespeare Company converging on Shakespeare's birthplace to pay their tribute to the inspiration behind many of their most famous performances. Such well-known actors as Benedict Cumberbatch, Judi Dench, and Ian McKellen, and Helen Mirren took part in the tribute. But it was a member of the royal family who stole the show.
Solar-powered Plane Crosses Pacific Safely
April 23, 2016
The solar-powered dream continues for Bertrand Piccard and Andrew Borschberg. Their latest airplane, Solar Impulse 2, powered into mainland American airspace and landed in Mountain View, Calif., after a 62-hour nonstop flight (without fueling, of course) from Hawaii.