Egyptian Rulers Warn Soldiers Not to Protest
---
April 7, 2011
Another large protest is planned in Cairo's Tahrir Square, but military officers in uniform are being warned to stay away. The protest is to voice disappointment with the speed and transparency of the changes being made by the ruling military council, which took over in the wake of the resignation of former President Hosni Mubarak.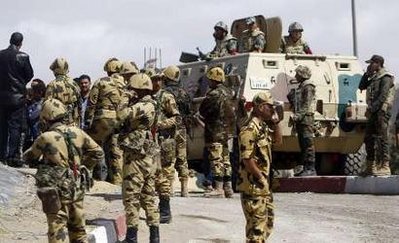 The Supreme Council of Armed Forces have suspended the constitution, scheduled parliamentary elections, disbanded the security police, and promised further reforms but have released few other details, prompting calls for the protest. A few high-ranking officers have made public their intentions to wear their uniforms and appear in Tahrir Square, in support of the protesters. The military council, however, warned against soldiers' attendance at the protest, especially if they're wearing their military uniform. The penalty would be immediate prosecution before a military tribunal, the council said.

The protest and warning come in the wake of a recent report by the government that tourism revenues fell precipitously in the wake of the unrest, with hotel occupancy rates in several key Red Sea resorts at 40 percent of normal levels. Warnings issued in the wake of the initial protests have been lifted, and tourists have returned but in a trickle, not a flood. When the protests were at their height, many foreigners left the country even though they had just begun vacations. Popular tourist attractions such as the Great Pyramid of Giza reported virtually nonexistent tourist traffic for several days.

Egypt depends heavily on tourism income, which annually totals 10 percent of gross domestic product. The country is about to launch a global advertising campaign, to try to convince tourists to return to the Land of the Nile.

Such drops in tourist figures are not new. Previous instances of bombing attacks and shootings have resulted in similar drops. The expansive nature of the changes gripping the country at the moment, however, have convinced experts that a return to pre-revolution levels will take a bit longer than before.

Social Studies
for Kids
copyright 2002-2014,
David White
---