Interior Ministry Burns as Police Stand by and Protest
---
March 22, 2011
The Egyptian people have approved historic changes to the constitution, but widespread unease remains on the streets of Cairo and in other cities.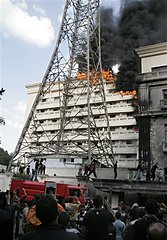 The latest evidence of this is the burning of the headquarters of the Interior Ministry, the focus of so much anger among civilians for the role the ministry played in enforcing former President Hosni Mubarak's laws and policies, in violation, many people claimed, of basic human rights. Looters had removed much of value from the building already. Policemen standing outside the building let it burn because they were voicing their own protest — asking for higher wages and benefits, including more for health care. The fire spread to a nearby communications building before being controlled. Police kept looters from entering either building.

Meanwhile, the former ministers of information and finance were headed for criminal court, sent there by the prosecutor general on charges of misusing public funds. Yussef Boutrou Ghali (finance) is charged with giving Anas al-Fiqqi (information) $6 million from the national budget to spend on election coverage in state-run media.

Other members of the once-ruling National Democratic Party to face corruption charges include the former ministers of housing, interior, and tourism.

International observers keenly await the reopening of Egypt's stock market, after a closure of nearly two months. Several companies have announced their intention to buy back their own shares, in an attempt to head off what is expected to be a big drop in share prices.

Social Studies
for Kids
copyright 2002-2014,
David White
---