Egyptian Army Continues on Peaceful Path
---
February 14, 2011
Most signs in Egypt continue to point toward a peaceful transition from autocracy to martial law to democratic government.

The army, which put itself in charge in order to force Hosni Mubarak to finally step down as president, has issued yet another statement, this time urging more than ever that people leave their street protests and get back to work. The country, paralyzed for much of the past three weeks, has already lost vast sums of money because many of the vital industries and systems have been shut or shut down. Workers at state-owned businesses across the country hadn't had their fill of protesting against Mubarak himself and stayed off the job on Monday, chanting outside their places of employment as if they were still in Tahrir Square. Their demands were basic: higher wages and more freedom. But, the army insists, the more these people stay off work, the less they get paid anyway. True reform will take time, many in the government say, and workers should return to their jobs and take what regular pay they can still get.

The ruling council has pledge to move quickly toward introducing constitutional reforms, including a more representative government resulting from elections scheduled for September.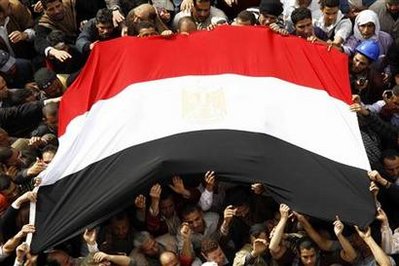 As late as a month ago, Egyptian people were afraid to speak out against their government, its laws, and its police and armed forces, for fear of reprisals in the form of unemployment, muzzling, arrest, and imprisonment. With their newfound free voices, many people don't want to stop asking for more. In the large cities, much of the public protest area is cleared. Cairo's Tahrir Square, site of one protest that topped 250,000 participants, now fairly echoes with the sounds of what was once a sea of "Leave, Leave!" chants shouted at Mubarak and what he represented.

Yet people still speak out for more. Newly emboldened and so far unimpeded, they speak with newfound voices of what they would like to see from their new government, trusting the army but still wishing to be free from its rule. In some protests, police joined with marchers in their calls for reform.

For its part, the army is endeavoring to keep the peace. The ruling council has declared a bank holiday for Monday and a public holiday for Tuesday, to celebrate the birthday of the prophet Muhammed.

Elsewhere, Palestinian President Mahmoud Abbas convinced his Cabinet to resign, in an apparent show of solidarity for the people of Egypt. Abbas will shortly form a new Cabinet, ahead of anticipated elections later this year.

Also on the hot seat is Algeria's government, after large crowds demonstrated in the capital, Algiers, demanding reforms to the government of President Abdelaziz Bouteflika, who is 73 and has ruled his country with an iron fist for 11 years, staging elections three years ago that resulted in an overwhelming victory for him and his government. Protests in Algeria are nowhere near as large as those in Egypt.

Social Studies
for Kids
copyright 2002-2014,
David White
---