Egyptian Government Disbands Secret Police
---
March 15, 2011
The Egyptian temporary government, the Armed Forces Supreme Council, took action that was certain to impress the opposition, announcing the dismantlement of the security police that had been the target of nearly as much outrage as President Hosni Mubarak himself.

The secret security arm of the government was, many Egyptians allege, responsible for a vast number of cases of rough interrogations, brutality, and actions to prevent political opposition. The former head of the service is under arrest, and two former security policemen are on trial in the death of an online activist. Protesters reported finding evidence of torture in the piles of shredded files on the floor of the security agency's main headquarters.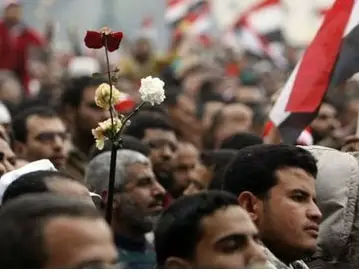 In place of this secret group will be the National Security Force, which the government has pledge will maintain order without depriving the citizens of their constitutional rights.

Hillary Clinton, the U.S. Secretary of State, was in Cairo for talks with the country's new foreign minister, Nabil al-Araby. One result of that meeting was the announcement of a billion-dollar financial deal aimed at restoring the luster of confidence of Egypt's now-depressed economy. During the momentous protests that resulted in the removal of Mubarak, much of the country shut down and vast sums of tourist income was lost.

Clinton, who was to meet later with Prime Minister Essam Sharaf and Field Marshal Hussein Tantawi, reiterated her country's support for free and fair elections, which are scheduled in a few months.

The new security agency will be tasked with guarding internal security and fighting terrorism in line with the constitution and the principles of human rights, the state news agency reported.

Social Studies
for Kids
copyright 2002-2014,
David White
---