Massive Protests Continue in Egypt
---
February 5, 2011
For the 11th straight day, huge masses of people rallied in Cairo, the Egyptian capital, protesting against the government of President Hosni Mubarak.


The protests have largely been peaceful, although clashes between anti-government protestors and supporters of Mubarak have turned violent in recent days. Nearly 100 people have been killed, and more than a thousand people have been injured.

Mubarak has already said that he would not stand for re-election. Egypt's every-six-years elections are due to take place in September.

When the protests began, Mubarak fired his government and named military men to the most important posts, including former intelligence chief Omar Suleiman as vice president. Mubarak also succeeded in shutting down the country's cell phone networks and in turning off access to and from the country's Internet sources.


Since then, the crowds in Cairo's Tahrir Square have grown, swelling to nearly 1 million. Mubarak ordered in tanks to keep the peace, but army soldiers have not fired on protestors, even though they have defied a government curfew.

People have gathered in similar protests in Alexandria, Suez, and other Egyptian cities, as well as in cities in other countries around the world.

The protests began in earnest in the wake of unprecedented political unrest and governmental change in northern Africa. The people of southern Sudan voted to divide their country in two; in the north, protestors have been gathered in the country's capital, Khartoum, for the removal of the president, Omar Hassan al-Bashir, in the wake of the genocide in Darfur.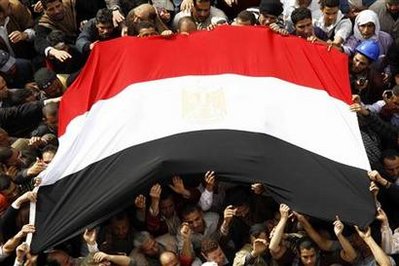 The president of Tunisia, Zine el-Abidine Ben Ali, was forced from power by the sheer magnitude of protests in his country.

Other nearby countries experiencing similar unrest include Algeria and Jordan.

Leaders of many other countries, including U.S. President Barack Obama, have urged Mubarak to leave before September.

Social Studies
for Kids
copyright 2002-2014,
David White
---