Egyptian Army Maintains Calm at the Top
---
February 12, 2011
The Egyptian army, now firmly in control of the country, has promised to keep the current government in place until concrete steps can be taken toward constitutional reform. That was welcome news to the tens of thousands of people still celebrating in Cairo's Tahrir Square, a day after they got their biggest wish when Hosni Mubarak stepped down as president.

Also welcome was the announcement from the Armed Forces Supreme Council that relations with Israel, including the current peace agreements, would continue. That announcement was welcomed around the Middle East and indeed around the world.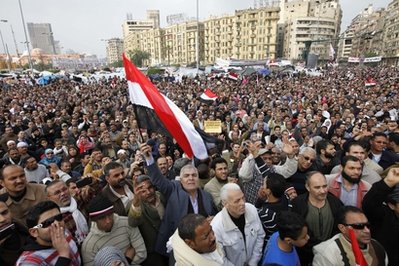 Now that Mubarak has gone, the protesters who have made the most noise are considering whether to end their 24-hour-a-day vigil and go to their homes, agreeing to reconvene once a week to renew calls for other of their key demands to be met: a lifting of the oppressive emergency laws and a more representative government, which they would play a large part in creating through casting their votes in a truly democratic election.
The army has begun to help some people make that decision, dismantling the tents in which many protesters had camped out during their weeks of protest. Most of the resulting arguments were peaceful.

Mubarak, in power since 1981, ran a referendum on his government every few years, relenting on demands for "real" elections only in 2005. Opposition candidates appeared on the ballots that year, but Mubarak and his allies were re-elected by such a wide margin that many outside observers questioned the legitimacy of the vote-counting.

Who will be the next president of Egypt? No one is really sure. Elections are scheduled for September.

Vice President Omar Suleiman, the former spy chief, is technically the country's ruler, and he might be a candidate for election.

Certain to be on the ballot is Mohamed El-Baradei, owner of a Nobel Peace Prize and the former head of the International Atomic Energy Agency. El-Baradei was a prime candidate for opposition spokesman during the past three weeks, after he returned from exile to lead his thousands of loyal youthful followers in protesting against Mubarak's regime.

Another possibility is Ayman Nour, who ran against Mubarak in 2005 and was jailed for his losing effort. His following is not quite as large as that of El-Baradei, but he is certainly a candidate with whom most of the country would be familiar.

One man who probably won't be looking to run for president is Gamal Mubarak, who until a few days ago was thought to be the anointed successor to the hated Hosni Mubarak.

Social Studies
for Kids
copyright 2002-2014,
David White
---