Massive Crowd Fills Cairo Square Despite Concessions
---
February 8, 2011
The crowd in Cairo's Tahrir Square numbered much more than 100,000, their numbers swelled by tales of detention and the addition of two of the country's most famous faces. They continued to chant and sing patriotic songs and themes.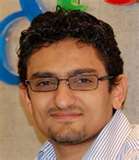 Wael Ghonim, the Google executive detained and blindfolded for 12 days, was finally let go and made his presence known in the square. He was initially detained for starting a Facebook page that helped spread the word about the protests. Ghonim insisted that he was not a hero but rather the people in the square, day after day and night after night, were the people their fellow Egyptians should be revering.

Vice President Omar Suleiman has met with representatives of the outlawed opposition group the Muslim Brotherhood to discuss transition plans. That meeting follows similar meetings Suleiman has had with other opposition leaders in recent days. Notably absent was President Hosni Mubarak, the lightning rod target of so many of the protesters' chants and blame.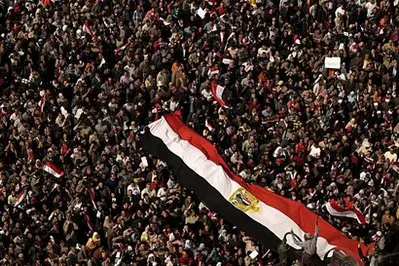 The people in the square, many of whom continue to sleep under plastic sheets through the rain or plant themselves in the path of the wheels of tanks, say that Mubarak's departure is the only concession that they really want to see, despite recent efforts by the president to offer a pay increase and meet other opposition demands, including lifting the country's emergency laws. The government has released 34 political prisoners and has agreed to set up a committee to investigate claims of corruption and address the need for constitutional reform.

Signs of a return to normal echoed a few days ago, as banks and schools reopened and traffic jams reappeared. But Tuesday saw the return of the massive crowds, buoyed by Ghonim's release and account of his detention. Early on, the government shut down the Internet and blocked cell phone traffic; ironically, this might have driven more people onto the streets for news of what was happening.

Army soldiers are still refusing to engage with weapons. The protests continue to be mostly peaceful. On Tuesday, soldiers initially tried to check identity cards of people entered the square but gave up after awhile.

Also joining the swelling ranks of protesters were two well-known television anchors, Shahira Amin and Soha el-Nakash , the public faces of Nile Television and Nile News, respectively. They refused to read government-dictated scripts and instead quit their jobs, in one case joining the protesters in Tahrir Square.

Social Studies
for Kids
copyright 2002-2014,
David White
---