Current Events:
The 2011 Libya Protests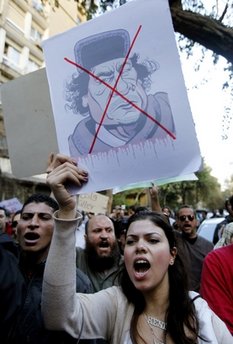 ---
Libya Announces New Government, Capture of Gadhafi's Son
November 23, 2011
Libya has a new government, even as its members struggle to decide what to do with the captured son of Col. Moammar Gadhafi.

Clinton Visits Tripoli
October 18, 2011
In a sign that things were definitely starting to stabilize in Tripoli, U.S. Secretary of State Hillary Clinton visited the Libyan capital on Tuesday, meeting the country's nominal leader, Mahmoud Jibril, and other members of the fledgling government.

Libyans Bulldoze Gadhafi Compound
October 16, 2011
In an action as full of symbolism as anything else, workers wielding bulldozers knocked down the walls surrounding the Tripoli compound of Col. Moammar Gadhafi. Opposition leaders said the compound, called Bab al-Aziziya and surrounded by high green walls manned by armed guards, would be made into a public park.

Libyan Rebels Gain African Union Favor
September 20, 2011
The African Union has given a major boost to the international standing of the temporary government in Libya, recognizing the National Transitional Council as the legitimate leadership of the country.

Libyan Rebels in Charge of Most of Tripoli
August 25, 2011
In what many observers are calling an extraordinary turn of events, Libya's rebels are closing in on control of the capital, Tripoli, six months after being nearly run out of the country by the forces of Libayn leader Col. Moammar Gadhafi.

Peace Talks Continue as Fighting Presses on in Libya
July 5, 2011
Reports increasingly point to a negotiated settlement to the armed struggle in Libya, with the latest a Russian newspaper claiming to have proof that Col. Moammar Gadhafi is on the way out.

International Court Issues Warrant for Gadhafi's Arrest as Rebels Close in
June 27, 2011
Libya's Col. Moammar Gadhafi is increasingly on the defensive, although he is still refusing to recognize the authority of foreign leaders or organizations. The latest step taken by international authorities was an arrest warrant issued by the International Criminal Court, in the Hague. Separately, the rebels armed against Gadhafi and his forces issued an announcement saying that their drive west had reached within 50 miles of Tripoli.

Libyan Rebels Get $1 Billion in Aid as Gadhafi Targets Misrata
June 9, 2011
The civil war in Libya has continued to escalate, with the tide turning slightly toward the rebels protesting against the regime of Col. Moammar Gadhafi, who has again targeted the western city of Misrata with a fierce bombardment.

Libyan Opposition Gets Twin Boosts
May 24, 2011
The civil war in Libya dragged on, even as NATO-led airstrikes bombarded the capital, Tripoli, and rebel leaders found new friends abroad.

International Prosecutor Issues Arrest Warrant for Gadhafi
May 16, 2011
Libya's leader, Col. Moammar Gadhafi, now faces an arrest warrant at the hands of an International Criminal Court prosecutor. Charges include killing innocent protesters, using heavy artillery against funeral processions, and directing snipers to target worshipers exiting mosques.

Libyan Refugees Survive Boat Sinking
May 9, 2011
All 528 refugees fleeing the civil war in Libya are alive and well, thanks to local fishermen and Italian coast guard workers who pitched in to save the hundreds of people after their boat began sinking after hitting rocks off the island of Lampedusa. A few people sustained injuries and were hospitalized; among those saved were 24 pregnant women.

No End in Sight: Civil War Grinds on in Libya
May 6, 2011
The situation in Libya continues to be fractured, with Col. Moammar Gadhafi controlling much of the western part of the country, including the capital, Tripoli, and rebels controlling much of the eastern part of the country, including several key oil fields and Benghazi, the country's second-largest city. Economically, both sides are ailing. Politically, it's a stalemate. Where to from here?

Airstrike Kills Gadhafi's Son, Grandchildren
April 30, 2011
Things turned incredibly personal in the Libyan civil war, after a NATO airstrike on Tripoli, the capital, killed one son and three grandchildren of Col. Moammar Gadhafi. The grandchildren were all under 12.

Rebels Reject Truce That Keeps Gadhafi in Power
April 11, 2011
Now it's the rebels' turn to keep fighting. A day after the Libyan government announced that Col. Moammar Gadhafi had accepted the terms of a truce as brokered by other African leaders, the rebels opposing Gadhafi's continued rule rejected the agreement, saying that his removal was a precondition of any agreement that they might make.

Gadhafi Pleads Directly to Obama, Uses Human Shields to Protect Troops
April 6, 2011
Libyan leader Moammar Gadhafi sought to gain the high moral ground on Wednesday, appealing directly to U.S. President Barack Obama to stop the NATO-led airstrikes targeted at Gadhafi's military forces and installations, even as NATO was having to change its targeting patterns to avoid firing on unarmed civilians. The latter came about because Libyan government forces had moved into heavily populated areas, effectively using the civilian population as human shields.

Libyan Government Ready to Talk Reform
April 4, 2011
The Libyan government has announced that it is willing to discuss political reform, as long as any changes don't result in the removal of Col. Moammar Gadhafi.

Key Libyan Government Officials Resign, Flee the Country
March 31, 2011
Both sides of Libya's civil war continued to trade bullets and positions, even as key members of the government resigned and fled the country.

Gadhafi Blunts Rebel Advance with Fierce Counterattack
March 29, 2011
Despite recent airstrikes by Western nations and Qatar, despite rebel advances back over the desert toward Tripoli, Libyan leader Moammar Gadhafi has struck back, shelling the rebel forces with superior firepower from tanks and rockets.

Rebels (Thanks to Airstrikes) Gain Momentum in Libya
March 27, 2011
The Libyan civil war goes on, with the tide now turning in favor of the rebels, thanks in large part to airstrikes by Western nations. Led by the United States initially, the airstrikes continue but are now coordinated by NATO, featuring bombing raids from the U.S., France, the United Kingdom, and Qatar — the only Arab nation to join in the fray.

Airstrikes Continue, but Libya Situation Murkier
March 21, 2011
A few days of air strikes against the armed forces and strategic positions of Col. Moammar Gadhafi have not crystallized the situation in Libya.

Western Countries Launch Airstrikes Against Gadhafi
March 20, 2011
The death toll is mounting in Libya, as Western countries launch airstrikes against air defenses and other positions of forces loyal to Col. Moammar Gadhafi.

U.N. Approves No-fly Zone over Libya
March 17, 2011
Col. Moammar Gadhafi now faces a host of opponents who are much better equipped than the sometimes ragtag opposition that has nonetheless seized much of eastern Libya. The prospects of air strikes on Gadhafi's troops by airplanes from other countries is very real, after the United Nations Security Council approved a no-fly zone over Libya.

No-fly Zone Gains Favor as Gadhafi Continues Attacks
March 12, 2011
Calls for a no-fly zone over Libya have grown, with the Arab League voting to join pleas from France and the United Kingdom for the United Nations to get involved in the airspace over Libya's civil war. However, Libyan leader Col. Moammar Gadhafi still seems very much in control of his capital and seems to have the momentum militarily.

Gadhafi Orders Airstrikes as Civil War Continues
March 7, 2011
The civil war continues in Libya, with forces loyal to Col. Moammar Gadhafi fighting to hold on to Tripoli and other key areas while rebels try to press ahead with their drive to the capital.

Gadhafi Forces Fires Tear Gas at Protesters
March 4, 2011
The latest salvo fired by embattled Libyan leader Moammar Gadhafi is tear gas, fired into crowds of protesters in Tripoli, the capital, speaking out against Gadhafi's regime.

Outside Pressure Grows as Libya Splits Further
February 28, 2011
Moammar Gadhafi is clinging to power in Libya, even as much of the country and its vital oil resources are in the hands of anti-government protesters and other world leaders threaten more and more invasive actions.

Gadhafi Turns Up the Heat, Feels Pressure from Abroad
February 26, 2011
Tripoli remains in the hands of Libya's leader, Moammar Gadhafi, but opposition forces are gaining more and more territory, even as the embattled strongman bolsters his presence with armed mercenaries and civilians.

Gadhafi Blames al-Qaeda as Violence Continues
February 24, 2011
Libyan leader Moammar Gadhafi appeared on state-run television for a second time, blaming al-Qaeda for the protests against his regime and urging his supporters to continue their violent crackdown on protesters across the country.

Mercenaries Bolster Gadhafi Forces as Opposition Gains More of Libya
February 23, 2011
Things continue to look grim in Libya, where Col. Moammar Gadhafi, the leader of the country, continues to meet calls for government reform with measures of violence.

Defiant Gadhafi Vows Fight to the End
February 22, 2011
Moammar Gadhafi is showing no signs of giving up control of Libya, a country he has ruled on a tight leash for 40 years.

Gadhafi Continuing Bloody Crackdown in Face of Large Protests
February 21, 2011
Libya is ablaze with protests against leader Moammar Gadhafi, and the government is fighting back with firepower.