No End in Sight: Civil War Grinds on in Libya
---
May 6, 2011
The situation in Libya continues to be fractured, with Col. Moammar Gadhafi controlling much of the western part of the country, including the capital, Tripoli, and rebels controlling much of the eastern part of the country, including several key oil fields and Benghazi, the country's second-largest city.


Economically, both sides are ailing. The civil war has certainly cost large sums of money to finance the purchase and maintenance of equipment and munitions. Airstrikes led by a NATO coalition have eased some of the pressure on rebel-held lands, but the troops on the ground are still having to find ways to finance their rebellion. Even though they control many of the country's oil fields, these fields are producing nowhere near the amount of oil needed to finance an armed rebellion, despite an agreement with Qatar to sell the oil elsewhere. The Libyan government's forces are dwindling, but Gadhafi had more to begin with and has seen his stockpiles reinforced by militias and mercenaries from his own group of allies.

The rebellion, based in Benghazi, is keeping up appearances, adopting its own logo and declaring the national financial institutions in rebel-held cities off-limits to any interference from the government. But a large number of people are out of work, as businesses and schools remain closed and revenues into the rebel-held cities begin to dry up, as do imports. An initial declaration of ownership of $1 billion from Benghazi's central bank and a $400 million infusion from Kuwait and Qatar have propped up the rebellion for awhile, but funds are being stretched thin and Western nations are refusing to release frozen funds numbering some $165 billion to either side of the protracted conflict. Oil and gasoline are in short supply as well, although a tanker from Europe is expected any day.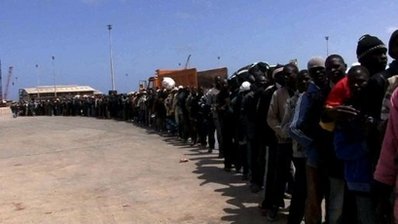 Government forces have had more than enough money and munitions to besiege Misrata, a key town in the western part of the country that is held by rebels. The siege has gone on for weeks, costing many lives on both sides, and survivors tell of great atrocities at the hands of Gadhafi's soldiers. The International Criminal Court's chief prosecutor issued a report that found evidence of "crimes against humanity" committed by Libyan government forces, including Gadhafi himself.

Given the recent airstrike that killed one of his sons and three of his grandchildren, Gadhafi is not likely to turn around and ask for peace terms anytime soon.
Politically, it is a stalemate as well. Although several countries have offered to fully recognize the eastern part of the country as a separate entity, the various factions struggling against Gadhafi's regime are not all the well recognized, either as a fighting force or as a political entity. Other African leaders are reluctant to condemn Gadhafi's actions, as Western nations have; also, the strong words from Western leaders have resulted in sanctions and resolutions but nothing earth-shaking on the political landscape.

A huge number of people have fled the country since February. According to the United Nations, the exodus numbers 686,422 and counting, with most people fleeing to newly revolutionized Egypt and Tunisia. However, many more people who want to leave have been kept from leaving — by police or by random bombings or by simple fear of the unknown.
turned incredibly personal in the Libyan civil war, after a NATO airstrike on Tripoli, the capital, killed one son and three grandchildren of Col. Moammar Gadhafi. The grandchildren were all under 12.

Gadhafi had, just a few hours earlier, issued a call for a cease-fire and negotiations between the warring sides. The son killed, Seif Al-Arab Gadhafi, was a younger of his father's seven sons who had spent time in Germany before returning to his homeland not long ago. Also in the house were Gadhafi himself and his wife; both were uninjured. Heavy bursts of gunfire were heard in response.

The airstrike was the first, after a series of hundreds and hundreds during the course of a month, to target Gadhafi and his family. Previous strikes had targeted government troops and positions, especially in the areas of the opposition capital, Benghazi, and the opposition-held by fiercely besieged western city of Misrata.

NATO officials welcomed the cease-fire proposal but reminded observers that it was the latest of several such calls by Gadhafi, all of which had been followed by more fighting on his part.



Social Studies
for Kids
copyright 2002-2014,
David White
---