Gadhafi Blunts Rebel Advance with Fierce Counterattack
---
March 29, 2011
Despite recent airstrikes by Western nations and Qatar, despite rebel advances back over the desert toward Tripoli, Libyan leader Moammar Gadhafi has struck back, shelling the rebel forces with superior firepower from tanks and rockets.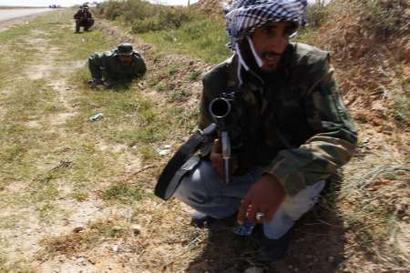 The rebels, in many cases poorly armed and trained, have little hope of matching such firepower and are depending on airstrikes from other countries to help in their struggle to hold back attacks from Gadhafi.

The rebels have managed to seize key oil ports and sign an agreement with Qatar, for that country to sell oil and give the money to the rebels, who now control about 80 percent of the country's oil production. That doesn't matter so much on the battlefield at the moment, however, because Gadhafi's forces have so much more weapons on the ground.

Rebel forces had advanced on Sirte, Gadhafi's hometown, but were sharply driven back by a fierce counterattack. The battle continues as well for Misrata, a rebel-held city in western Libya (and the country's third-largest) that is the focus of a weeklong siege by Gadhafi's troops.

Representatives of the U.S., the U.K., France, and Italy met in London with Libyan rebel leaders and came away with an agreement that Gadhafi should leave his post as his country's leader. The colonel has other ideas, looking to extend his nearly 42 years in power following a bloodless coup.

Many observers have predicted a prolonged conflict bordering on a civil war.

Social Studies
for Kids
copyright 2002-2014,
David White
---