Mercenaries Bolster Gadhafi Forces as Opposition Gains More of Libya
---
February 23, 2011
Things continue to look grim in Libya, where Col. Moammar Gadhafi, the leader of the country, continues to meet calls for government reform with measures of violence. The latest strategy by Gadhafi is to bring in mercenaries by the thousands from other countries. Undeterred, protesters are planning another large rally in Tripoli, the country's leader, and, in some cases, forming local governmental bodies of their own in cities and land that they now control.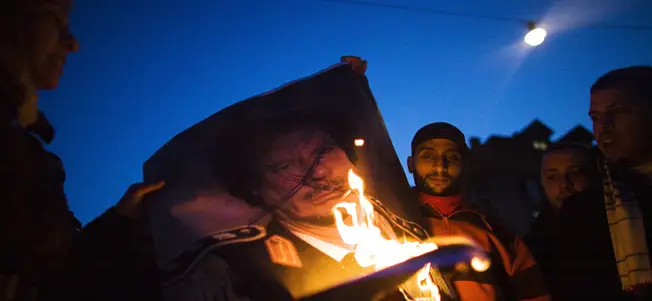 Opposition forces claim to be in control of several of the country's cities, including Benghazi, the second-largest city, and the surrounding countryside. Reports of heavy fighting in the area have reached outside sources. Much more of the country is thought to be in opposition hands than just a few days ago, and it appears increasingly likely that Gadhafi will be facing a final battle in the capital.

Joining a parade of government officials resigning because of the violence was the interior minister, Gen. Abdel Fattah Younes al-Abidi, who had served Gadhafi the longest of any minister. The justice minister has already resigned, as have several ambassadors to other countries around the world. In the latest development, two air force pilots ejected themselves from their plane and parachuted to the ground, rather than follow orders to bomb a city in the hands of the opposition.

Condemnations continued to be voiced from other countries. U.S. President Barack Obama called the violence "outrageous and unacceptable" and raised the possibility of sanctions and an assets freeze against Gadhafi and his government. Chiming in as well was French President Nicolas Sarkozy, who suggested that the European Union could cut ties with Libya. Oil prices have skyrocketed as a result, hitting $100 a barrel for the first time since 2008.

The death toll is thought to be at least 300, the figure reported by human rights groups, but could be as much as 1,000, as reported by officials in Italy, the former colonial owner of Libya.

Large crowds of Gadhafi greeted his speech on state television as a call to arms, grabbing weapons and setting off on patrols designed to eliminate opposition forces, possibly in the form of neighborhood-by-neighborhood searches.


Social Studies
for Kids
copyright 2002-2014,
David White
---