Gadhafi Turns Up the Heat, Feels Pressure from Abroad
---
February 26, 2011
Tripoli remains in the hands of Libya's leader, Moammar Gadhafi, but opposition forces are gaining more and more territory, even as the embattled strongman bolsters his presence with armed mercenaries and civilians.

Protesters against the 42-year-old autocratic regime have gained control of much of the country's territory, including Benghazi, the second-largest city, and many of the vital Mediterranean coastline. Unbowed by recent violent clashes, protesters turned out in large numbers in Tripoli to the funeral of a man killed in a recent demonstration.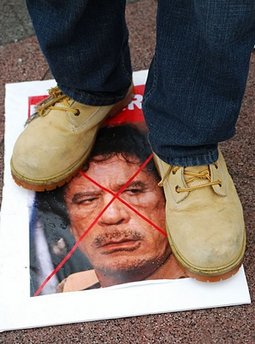 Many residents in Tripoli are afraid to leave their homes except for much-needed supplies. The death toll nationwide numbers in the hundreds, with some international groups putting it in the thousands. Meanwhile, frightened internationals continue to leave the country, with the main port in Tripoli still open to fleeing refugees.

Clashes continue throughout the country between forces loyal to Gadhafi and those speaking out for a more representative government. Gadhafi, who came to power in a coup in 1969, is very much in control of both the military and the government. As a concession to protesters, he has recently offered to each Libyan family the sum of 500 dinars (about $400).

Pressure from elsewhere in the world continues to be intense. United States President Barack Obama has called on Gadhafi to step aside and frozen the leader's assets in the U.S. The United Nations Security Council has declared economic sanctions against Libya and was also considering an arms embargo and a travel ban against Gadhafi and his family and government.

Click here to see a map of who controls what.

Social Studies
for Kids
copyright 2002-2014,
David White
---