Gadhafi Orders Airstrikes as Civil War Continues
---
March 7, 2011
The civil war continues in Libya, with forces loyal to Col. Moammar Gadhafi fighting to hold on to Tripoli and other key areas while rebels try to press ahead with their drive to the capital.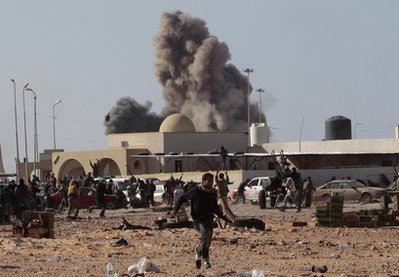 In response to Gadhafi's order of airstrikes against rebel positions near the towns of Ras Lanuf, Misrata, and Zawiyah, France and the United Kingdom announced their intention to seek United Nations permission to institute a no-fly zone over the Libya's skies. Such a move would neutralize Gadhafi's biggest weapon at the moment: airpower. The rebels, who control Benghazi, the country's second-largest city, and several other key oil ports and most of the eastern part of the county, have no such advantage. Ill-equipped and poorly trained, they want the U.N. to go further and order airstrikes against Gadhafi's position.

Those protesting Gadhafi's rule say that it has gone on far too long and that he must be replaced with someone who will give the people more rights and respect. Gadhafi, even in the face of fierce opposition, refuses to step down, despite calls to do so from many world leaders. He appeared on state-run television and on French television, insisting that his absence would result in a sort of tribal war seen elsewhere in Africa.

Meanwhile, the United Nations has asked for a upwards of $160 million to fund efforts to deliver food, medicine, and shelter to the more than one million Libyans who, the U.N. says, need humanitarian aid.

Social Studies
for Kids
copyright 2002-2014,
David White
---