---
Current Events
Softball Pitcher Records Perfect Game, All on Strikeouts
April 12, 2021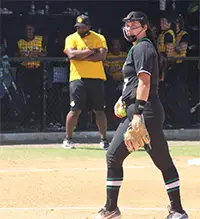 Hope Trautwein made history by striking out every batter she faced, the entire game. Trautwein, who plays softball for the University of North Texas, pitched a complete seven-inning game against the University of Arkansas–Pine Bluff and struck out all 21 batters, without allowing a hit or a walk and her team made no errors. It was the first time in NCAA Division I history that a softball pitcher had achieved such a feat. Her team won the game, 3–0.
Archaeologists Find 3,400-year-old 'Lost City' in Egypt
April 12, 2021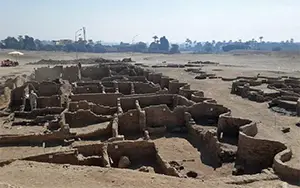 Egypt has announced the discovery of what officials say is the largest ancient city ever found in the country. The 3,400-year-old city, termed the "The Rise of Aten," dates to the reign of Amenhotep III. Well-known archaeologist and former antiquities minister Zahi Hawass said that the city is near Luxor and the famed Valley of the Kings, the final resting place of so many of Egypt's pharaohs.
U.K.'s Prince Philip Dead at 99


Prince Philip, the husband of Queen Elizabeth II, has died. He was 99. Philip, whose title was the Duke of Edinburgh, had in the past few years suffered through a handful of illnesses, some of which resulted in his being hospitalized. He was in the hospital in February of this year, undergoing treatment for a pre-existing heart condition. He died peacefully at Windsor Castle, on April 10. He and his wife had been married for 73 years.
4,000-year-old Burial Slab a 3D Map: Archaeologists
April 8, 2021

A Bronze Age slab hidden away for decades is one of the world's oldest 3D maps, scientists say. The 5-foot-by-6.5-foot rock first came to light in 1900, during excavations of a 4,000-year-old burial ground in western Brittany, in the Finist#&233;re area, in northwest France. In recent years, a team of scientists have studied the slab in cutting-edge detail, using photogrammetry and taking high-resolution 3D scans in order to glean as much of the original details as possible.
22 Mummies Go on Parade in Move to New Museum
April 5, 2021

Nearly two dozen royal mummies moved to a new home in the Egyptian capital. Egyptian officials moved 22 royal mummies from one Cairo museum to another, from the Egyptian Museum to the newly opened National Museum of Egyptian Civilization. Transportation was via specially designed vehicles that looked like winged boats, echoing the method by which the remains of the pharaohs of old made their way to their final resting place after being excavated in the 19th Century. Officials placed the mummies in climate-controlled cases for the Pharaohs' Golden Parade, which was televised. Marching soldiers accompanied manned horse-drawn chariots in providing tight security for the parade.