Current Events
Keep up-to-date with current events. Find out what's going on in the world around you.
---
Postal Service to Keep Saturday Delivery
April 10, 2013
Saturday mail delivery will carry on, the U.S. Postal Service has announced, following a decision by Congress to prevent such a move.
Shipwreck Confirmed as 400-Year-Old Spanish Treasure Trove
April 8, 2013
The ruins of a ship 1,300 feet below the sea near the Florida Keys have been identified as a long-lost Spanish ship sunk 400 years ago. A hurricane battered the Buen Jesus y Nuestra Senora del Rosario and 27 other Spanish merchant vessels on Sep. 5, 1622. Twenty of the ships made it out of the storm. Eight ships sank, taking with them 500 people and a huge amount of treasure.
Survey: Bigger Plates Mean Bigger School Meals
April 8, 2013
It's the plate size, not what's offered, that determines how much students eat, a survey has found. The survey, published in the journal Pediatrics, reported that first-graders who were given adult-size plates (a 16-ounce bowl and a 10.25-inch-diameter plate) ate more calories than their first-grade counterparts who were given child-size plates (an 8-ounce bowl and a 7.25-inch-diameter plate).
National Spelling Bee to Add Vocabulary Component
April 8, 2013
The 2013 Scripps National Spelling Bee will require competitors to prove their vocabulary knowledge as well as their spelling prowess.
New Detention Ordered for Mubarak
April 7, 2013
Egypt's top prosecutor has ordered former President Hosni Mubarak detained for 15 days, pending an investigation on renewed charges of corruption. Allegations are that he took more than $150 million in government funds earmarked for presidential palaces and spent the money instead on private residences for himself and his two sons.
China to Send Tourists to Disputed Islands
April 7, 2013
China is accelerating its ownership claims of a set of islands, despite assertions by other countries that they are the rightful owners. The dispute, not unlike that between Japan and Taiwan and China over a group of islands in the East China Sea, has heightened tensions in the region. The latest announcement from China is that a large cruise ship capable of holding nearly 2,000 passengers was set to sail for the islands, which are called Xisha by China and Hoang Sa by Vietnam.
Fukushima Nuclear Plant Reports More Contaminated Water
April 7, 2013
Contaminated water, more than 120 tons of it, has seeped into the ground from two holding tanks at the Fukushima Dai-ichi Nuclear Power Plant. The report, issued by the plant's owner, the Tokyo Electric Power Company, was the latest in a long line of setbacks following the twin disasters of the 9.0 earthquake and resulting tsunami that hit the northeast of Japan two years ago.
MLK Center Launches Youth Nonviolence Campaign
April 4, 2013
On the 45th anniversary of the death of Martin Luther King, Jr., a center in his honor announced a new campaign to honor his memory. The King Center, in Atlanta, has launched "50 Days of Nonviolence," a campaign to urge students to choose nonviolence until the end of the school year, if not longer.
British Library to Chronicle Websites, All of Them
April 4, 2013
The British Library has announced plans to chart the Internet – well, the British Internet, anyway. The Library, one of the largest in the world, has made a name for itself in maintaining a copy of just about everything printed in Britain for hundreds and hundreds of years. Now, the Library is turning its attention to the digital world.
Massive Easter Egg Display Honors Longtime Creator
March 31, 2013
A giant Easter egg display on the lawn of a Lyndhurst, Ohio, home honors the creator of Eggshelland, a tradition that lasted more than 50 years. The collection of brightly colored eggs arrayed into various displays began in 1957, as Ron Manolio decorated his lawn with 750 eggs. Manolio carried on the tradition, making it bigger and better every year until his death last year. This year, his children and grandchildren have carried on the tradition, setting up 21,630 eggs in 24 colors in a large display that includes a 45-foot Christian cross, a giant Easter bunny, a large duck, several flowers, and a massive portrait of Manolio himself.
Snowy Storm Covers Most of Atlantic Ocean
March 31, 2013
The weather system that spawned a huge blizzard that blanketed much of the U.S. and Canada recently is now even larger, covering most of the Atlantic Ocean, according to the National Weather Service. The storm, which dumped snow on 44 of the 50 U.S. states, merged with a few low-pressure systems in the western Atlantic, along with a combination of Gulf Stream-powered warm moisture and freezing winds from the far north. And, unlike other storms, this one hit an oceanic high-pressure system that stalled its progress eastward, creating a much stronger and larger storm than would otherwise have been.
Saudi Women Win Right to Form Sports Clubs
March 31, 2013
Women's sports clubs can go ahead in Saudi Arabia, in a further sign of growing rights for women in the Middle Eastern kingdom. The decision is significant given that Islamic clerics in Saudi Arabia warn against the dangers of women exercising at all. Women's exercise facilities, gyms among them, have previously been licensed as "health centers" by the Saudi Health Ministry.
China to Send Survey Team to Disputed Islands
March 14, 2013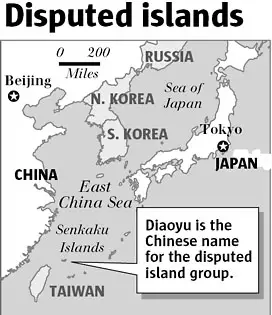 China has announced plans to send a team of people to do a survey of the islands as the heart of a three-country dispute. The vice director of the Chinese mapping agency said that the agency would send surveyors to the islands, which the Chinese and Taiwanese call Diaoyu and which the Japanese call Senkaku, and also increase ship patrols of the area around the islands. The surveys would include mapping of caves and other land-based features not currently reflected on satellite images. Japan's government warned that it would interpret the landing of any person on the islands as a violation of Japanese borders. Further, Japan said, any vessel crossing into the waters directly surrounding the islands would be a similar violation.
Egypt Reports Jump in Tourist Numbers
March 14, 2013
Egypt was more of a tourist destination in 2012 than the year before, but traveler numbers were still below those seen before the revolution. MENA, the state news agency, reported a 17-percent increase in the number of travelers visiting Egypt in 2012. The total figure was 11.5 million. The 2011 figure was 9.8 million. By contrast, in 2010, when Hosni Mubarak was still president, 14.7 million tourists visited the country.
Iditarod Winner Oldest Ever
March 13, 2013
Keeping the winning in the family, Mitch Seavey won the 2013 Iditarod, becoming the oldest winner a year after his son Dallas scored a win as the youngest-ever. Mitch Seavey, 53, reached the finish line in Nome a mere 9 days, 7 hours, 39 minutes, and 56 seconds after the traditional start in Anchorage.
600-Year-Old Chinese Coin Found in Africa
March 13, 2013
Researchers have found a 600-year-old Chinese coin in Kenya, suggesting that trade between the two areas was taking place earlier than has long been thought. The tiny silver and copper coin has a square hole in the middle, so it could be worn on a belt. The coin is of the type called "Yongle Tonbgao," after the 15th Century Ming Dynasty emperor Yongle
Twinkies Back on Shelves Soon, New Owners Vow
March 12, 2013
Hostess will sell Twinkies and other iconic brands to a pair of buyers, who promise that Twinkies will be back on shelves soon.
Bob Hope 'Spaceship' House Up for Sale
March 11, 2013
A futuristic-looking house once owned by legendary American entertainer Bob Hope is on the market. Hope's daughter, Linda, has announced the sale, at $50 million. The 23,000-square-foot house has six bedrooms, 10 bathroom, and three half-bathrooms. The property includes a tennis court, a putting green, a pond, and two pools, one of which is shaped in the profile of Hope himself. An open-air courtyard enhances the look, which resembles a spaceship.
Mummies Had Clogged Arteries
March 11, 2013
Ancient people had clogged arteries, scientists have found. According to a study led by a California neurobiologist, the mummies of people from ancient America, Egypt, and Peru showed evidence of atherosclerosis, or hardened arteries. The study, which utilized the kind of CT scans used on King Tut and other famous past Egyptians, analyzed 137 mummies in all and found strong evidence of calcium deposits that caused the artery-hardening. The oldest of the mummies was 4,000 years old.
Judge Strikes Down NYC Sugary Drink Ban
March 11, 2013
New York City's ban on large sugary drinks is on hold, pending an appeal in state courts. A State Supreme Court judge has halted the ban, a day before it was to take effect, saying that the ban applied standards inconsistently. For example, the judge said, the Board of Health's plan would ban single sales of sugary drinks in sizes larger than 16 ounces but would not stop consumers from buying multiple 16-ounce size drinks. Also, the judge noted, the ban applied to some restaurants but not convenience stores.
State Park to Honor Harriet Tubman
March 10, 2013

A new Maryland state park will honor Harriet Tubman, the "Moses of Her People." Ground was broken to mark the 100th anniversary of her death. Speaking at the ceremony was Patricia Ross-Hawkins, one of Tubman's distant relatives. Also on the program were a speech by Maryland Governor Martin O'Malley, and a stage presentation by a Tubman re-enactor, and songs by a local church choir.
Japan Upgrades Tsunami Warning System
March 10, 2013
To mark the second anniversary of one of the most devastating earthquakes in recent memory, Japan has unveiled an upgrade to its warning system, even as the cleanup continues in Japan and across the Pacific.
Egyptian Cabinet Approves Restrictions on Demonstrations
February 13, 2013
The Egyptian Cabinet has approved a proposed law that puts stark restrictions on public demonstrations. Meanwhile, hundreds of low-ranking police participated in a protest of their own, in multiple provinces. The police protesters warned of a public backlash in the wake of sustained crackdowns on anti-government protesters in Cairo, Alexandria, Heliopolis, and elsewhere.
Sweet: Belgium to Unveil Chocolate Stamps
February 12, 2013
Stamps in Belgium will soon be sweet, chocolate-sweet. Bpost, the Belgian postal service, will issue a limited run of chocolate-themed stamps, beginning March 25. The series will include five different designs, including nutella and chocolate sprinkles.
Wrestling Out of 2020 Olympics
February 12, 2013
The International Olympic Committee has removed wrestling from the 2020 Olympics. The decision includes both freestyle and Greco-Roman wrestling, the IOC said, confirming that the two sports will be on offer at the 2016 Summer Olympics, in Rio de Janeiro.
Longer School Day Nets Flak in France
February 12, 2013
A French government decree to lengthen the school day has resulted in widespread criticism. The government, in an effort to increase performance of French students, has told schools nationwide to add a half-day of school on Wednesday (the only day of the week on which students currently don't go to school) and to reduce the school day by 45 minutes the other three days, for a net increase of more than two hours in class time.
Christmas Truce Commemorative Soccer Game Planned
February 10, 2013
Among the events being planned to mark the one-hundred-year anniversary of the start of World War I is a soccer game. On Christmas Day in 1914, the warring soldiers laid down their weapons and met in no-man's land for a discussion, in which has come to be known as the Christmas Truce.
'Sequestration' New Term for Government Budget Battles
February 10, 2013
The deal done by Democrats and Republicans to avoid America's going over the "fiscal cliff" resulted in a rise in taxes for some members of the economy but did not eliminate a series of spending cuts that will take effect on March 1 unless Congress acts again. The term now being used to describe these spending cuts is "sequestration," a rather large word that means, basically, "seize and hold." If Congress does not pass a bill by the end of this month and the President does not sign that bill, the U.S. Treasury is under obligation to "sequester" a large amount of funds to help offset the Government's growing deficit.
Alamo Visitors to View 'Victory or Death' Letter
February 10, 2013
Visitors to the Alamo will soon be able to read the famous letter written by the commander of the Texans who died there.
Monopoly Fans Say Cat Hot, Iron Not
February 6, 2013
Furry friends trumped household items in the recently completed Monopoly token contest. Joining the current cast of tokens will be the cat, the choice of 31 percent of people who voted via an online contest. According to Monopoly manufacturer Hasbro, the cat replaces the iron, which received the least support.
No More Saturday Postal Deliveries
February 6, 2013
The U.S. Postal Service will stop Saturday delivery, unless Congress objects. Postmaster General Patrick Donahoe said that the practice of delivering direct mail and magazines on Saturdays would stop in the first week of August. Donahoe said that the move would save the Postal Service more than $2 billion a year.
Etch-a-Sketch Inventor Dies
February 3, 2013
The inventor of the Etch-a-Sketch® has died. Andre Cassagnes, a French electrician who for years was not listed as the venerable toy's creator, was 86.
Canada Takes Penny Out of Circulation
February 3, 2013
Canada is officially off the penny. The Canadian Mint has stopped circulating the one-cent coin to banks and has issued a recall for all current one-cent holdings. Retailers can still accept pennies, until the supply runs out. However, the Government is encouraging retailers to adopt the new rounding rules.
Oldest Marathoner to Retire at 101
January 31, 2013
Fauja Singh will run his final marathon on February 24. He will be five weeks away from his 102nd birthday.
South Korea Joins North in Space
January 30, 2013
Both North Korea and South Korea can now boast of a successful rocket launch. North Korea's launch took place in December. South Korea's took place yesterday.
Egyptian Curfew Cut Amid Widening Concern
January 30, 2013
The Egyptian Government has announced a reduction of the curfew in three Suez Canal cities, in response to continued violence and the army chief's warning that the Government's future was dire. Meanwhile, President Mohamed Morsi cut short a visit to Europe to return to Cairo, and opposition leader Mohamed El-Baradei reiterated a call for a national unity government.
Au Revoir to Hashtag in France
January 30, 2013
One person's hashtag is another person's sharp word. That's the case in France, where the Government has officially banned the word "hashtag" from online transmissions, most notably Twitter. Instead, French speakers are encouraged to use "mot-dièse," which is the rough equivalent of the English "sharp word."
Smog Readings Off the Charts in China
January 30, 2013
The Chinese Government has announced plans to address a persistent smog problem in Beijing and other cities, in the wake of an off-the-charts air quality reading in the capital on Tuesday.
Mobile Libraries Roll Through Still-devastated Haiti
Three years after a devastating earthquake rocked Haiti, killing more than 200,000 people and leaving 2 million homeless, the country is struggling with recovery. It was already one of the world's poorest nations when the earthquake hit; and although aid from around the world approached $10 billion, recovery has been slow.
Social Security Checks Go Electronic
Social Security payments will be electronic beginning March 1. In a move announced in 2011, the U.S. Treasury will stop sending benefit checks in the mail to nearly 5 million Americans and require recipients to provide information for electronic deposits, in a bank account or on a Treasury-issued debit card.
Money Tips for Teens, Parents
A new publication from the FDIC is full of money tips for teens. The primer, titled "For young adults and teens: Quick tips for managing your money," is 12 pages of information that many teens and their parents will find helpful in terms of paying for college or a car, saving money in the short term and the long term, building and keeping a solid credit record, and avoiding monetary fraud.
Russia Reinvigorates Lunar Missions
January 15, 2013
Russia has announced renewed efforts to send an unmanned probe to the Moon, the head of the country's space agency said. The Luna-Glob announcement follows a report from December 2012 that Russia had set a target of 2030 for the completion of a manned mission to the Moon, along with a space station orbiting the Moon and the dispatch of robotic craft to Venus, Mars, and Jupiter.
3-month Grace Period for NYC Sugary Drink Ban
January 15, 2013
New York's food sellers will get three months of warnings before having to pay fines for violating the city's ban on large sugary drinks.
Texas Library to Offer Only E-Books
January 14, 2013
Readers in a Texas county will have to borrow electronic books from this fall, when the library rids its shelves of printed books completely.
Japanese Leader Warns China over Disputed Islands
January 14, 2013
Japan's new prime minister has spoken out against Chinese actions in regard to a group of islands in the East China Sea, as the Japanese cabinet approved an increase in defense spending for the first time in a decade.
Mubarak Wins Right to Retrial
January 13, 2013
An Egyptian judge has ordered a retrial for former President Hosni Mubarak. Mubarak, who is serving a life sentence after being convicted in June 2011 of conspiring in the killing of protesters, has suffered from failing health, and his lawyers hope that the retrial judges will take that into account.
5 States Move to Longer School Year
January 13, 2013
Students in five states will go to school longer this year than their counterparts in the rest of the U.S., under a pilot program launched by the Department of Education.
Island Rises Out of North Sea near Germany
January 13, 2013
A new island has appeared off the coast of Germany. Named Norderoogsand, the island, which is 16 miles off the North Sea coast of Germany, has an area of 34 acres. It is home to more than 50 species of plant and several species of sea bird.
Egyptian Cabinet Shakeup Complete
January 6, 2013
Egypt's government includes 10 new ministers, the result of a Cabinet-level shakeup promised by President Mohamed Morsi after the approval of the country's constitution.
Fans to Choose New Monopoly Token
January 13, 2013
The lineup of Monopoly tokens will change, and the public will have something to say about it.Hasbro, makers of the iconic property accumulation game, have announced that it will replace one of the game's iconic playing tokens, the ones that represent players as they move around the board. Online voting will continue until February 5, after which the announcement will be made.
Harsh Weather Continues to Threaten after Hottest Year on Record
January 9, 2013
Harsh, dry weather continues to affect the U.S., with record highs in temperatures and record lows in water levels and crop conditions. The U.S. Government has a declared a natural disaster area in large parts of Colorado, Kansas, Oklahoma, and Texas, making the major wheat-growing states eligible for low-interest emergency loans. Between them, the four states grow one-third of entire wheat crop of the country.
Barge Traffic to Continue on Mississippi River
January 7, 2013
The Mississippi River will remain open to barge traffic, but only just. The river, which routinely sports some of the largest numbers of barge transports in the U.S., is at record low levels following the harshest drought in decades.
Egyptian Cabinet Shakeup Complete
January 6, 2013
Egypt's government includes 10 new ministers, the result of a Cabinet-level shakeup promised by President Mohamed Morsi after the approval of the country's constitution.
Interest Rising for Wonder, Other Hostess Breads
January 6, 2013
Hostess looks to have buyers for its Wonder and other bread brands. A newspaper has reported that Flowers Floods and Grupo Bimbo are in discussion with Hostess to purchase Wonder, Nature's Pride, and other of Hostess bread brands. None of the three companies had public comment, but the report, from the Wall Street Journal, said that an announcement could come this week.
Graphics courtesy of ClipArt.com
We offer all kinds of certification exams including Testking exam 70-513 dumps along 70-576 vce training dumps and pass4sure exam 70-564 foundation certifications. Our guaranteed exams are freely accessible all around the world for pass4sure 70-513 vce certification dumps and pass4sure exam 70-573 Certification key to success.