---
Current Events
LiDAR Reveals 'Medieval Manhattan' in Mexico
Hot on the heels of another success in Guatemala, researchers have used ground-breaking scanning technology to lift from obscurity a massive medieval settlement in what is now Mexico. Angamuco was built about A.D. 900 by the Purépecha, a civilization that rivaled the Aztecs. The Purépecha had a network of cities, including a capital at Tzintzúntzan, on the edge of Lake Pátzcuaro in today's western Mexico; descendants of those medieval people live in the area today. What the archaeologists investigating Angamuco discovered was that city was twice as big as the capital and perhaps as big as today's Manhattan. The population of Angamuco would not have been as high, however; estimates are a high of about 100,000, between A.D. 1000 and A.D. 1350.
New Pennsylvania Congressional Maps Released
February 19, 2018
The Pennsylvania Supreme Court has released its newly redrawn congressional district maps, replacing the ones that the Republican-led legislature had drawn after the 2010 Census. The boundaries will apply for the state's May primary elections.
Tokyo Planning 1148-foot-tall Wooden Skyscraper
A Tokyo skyscraper will commemorate the 350 anniversary of the founding of a forestry company–in 2041. It's the brainchild of Sumitomo Forestry Company, and the building will be made mostly of wood. The Japanese Government in 2010 passed a law requiring that wood be used for all public buildings three stories or smaller; the Sumitomo project envisions a building much larger: 1,148 feet and 70 floors. It will be the country's tallest building. The building, known as the W350 Project, will have 10 percent steel and 90 percent wood, with the beams, braces, and columns made of a hybrid of those two materials.
Investigation into Russian Curler's Failed Drug Test
February 19, 2018
Aleksandr Krushelnitckii has left the Winter Olympic Games after testing positive for the banned substance meldonium. He and his wife, Anastasia Bryzgalova, won the bronze medal in mixed double curling; it was the debut of the event and Russia's first ever medal in the sport. Meldonium is a heart drug that boosts endurance and is the World Anti-Doping Agency's banned list. Athletes are tested twice, creating an "A" sample and a "B" sample; the "B" sample is tested only if the "A" sample is positive. After the "B" sample test, the Court of Arbitration for Sport (CAS) opened an investigation into the athlete. The CAS has the power to take away medals from both athletes. Krushelnitckii is in Seoul, awaiting a decision by the CAS.
George Washington's Hair Tucked Away in 18th Century Library Book
February 14, 2018

Secreted between the pages of an almanac on the shelf of a New York college library for nearly the life of the country have been six strands of hair from the head of George Washington. Officials at Schenectady's Union College made the announcement recently, after completing a recent inventory. The leather-bound book, Gaines Universal Register or American and British Kalendar for the Year 1793, once belonged to Philip J. Schuyler, whose father, also named Philip, was a general serving under Washington during the Revolutionary War. Gen. Philip Schuyler, one of the founders of Union College, had three other children: Angelica, Margarita, and Elizabeth, the wife of Alexander Hamilton.
Life-size Camel Carvings Found in Saudi Arabia
February 13, 2018
Archaeologists have discovered a significant number of 2,000-year-old life-sized stone sculptures of camels in Saudi Arabia. A group of French and Saudi scientists have been excavating in the Al Jawf province, in the northweest part of the country near Jordan. They have named the place the Camel Site. Such stone carvings are rare in the Arabian peninsula; the ones that have been found scenes of hunting and war. Other carvings, particularly of animals, have been abstracts. The camel carvings were done in proportion, showing individual legs and other lifelike elements.
Pennsylvania Governor Vetoes New Congressional Maps
February 13, 2018
Pennsylvania Gov. Tom Wolf has vetoed a proposal for new congressional district maps for his state, charging that the legislature had done nothing to address the issue for which the state Supreme Court had voided the existing maps: they were gerrymandering in the extreme.
February 12, 2018
Fast food workers across the South are marching to promote the Fight for $15 movement to improve wages for low-income workers. They marched on the 50th anniversary of the start of the Memphis sanitation strike, whose participants included Martin Luther King, Jr.
'Heist of the Century' Author on Trial as Mastermind
February 12, 2018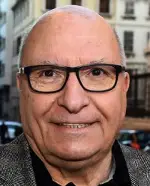 Can a 74-year-old author be prosecuted for committing a crime that he wrote about in a book? French authorities say, "Oui!" and have arrested Jacques Cassandri and put him on trial. Eight years ago, authorities claim, Cassandri wrote a book that described in quite accurate detail how a gang of thieves spent months tunnelling into a bank vault in Nice in 1976. The theft in the Riviera branch of the Société Générale was termed the "heist of the century" and was the inspiration for several other books and for a major release film
EU to Ponder Time-out on Clocks Switch
February 12, 2018
The EU is serious about time—Daylight-saving Time, that is. The European Parliament voted overwhelmingly to commission a review into whether turning clocks back and forward one hour each year is still worth the hassle that many people and businesses find it. The decades-old practice of turning clocks back in the autumn and forward in the spring dates to the early 20th Century, when it was thought prudent to maximize daylight hours and to minimize electricity consumption. Subsequent reviews have changed dates on which clocks go backward or forward, and some critics of the practice have become more vocal in recent years. In recent weeks, a petition to reconsider the practice in Finland gathered 70,000 signatures. That country's parliament asked the EU to reconsider the clocks change, as did the government of Lithuania. The EU has heard similar proposals in recent years.
February 12, 2018
Ellen Johnson Sirleaf, until recently the President of Liberia, has achieved another first. The first female leader of her country, she is also now the first woman to win the Mo Ibrahim Prize for Achievement in African Leadership. Sirleaf united her country after a period of civil war and served two terms as President of Liberia. She was also awarded the Nobel Peace Prize in 2011. The prize, carries with it a $5 million prize.
Ancient Briton Had Dark Skin, Blue Eyes
February 6, 2018
People who lived 10,000 years ago in what is now the United Kingdom had dark brown skin and blue eyes, according to new DNA analysis of the country's oldest complete skeleton. The remains, discovered in 1903, have been dubbed Cheddar Man because of where they were discovered: in Gough's Cave in Cheddar Gorge, Somerset. Examination of the bones and DNA had previously revealed that the man was 5 foot, 5 inches tall and in his early 20s when he died, possibly violently, from blows to the head that resulted in fractures to the skull. The skeleton has been on display at the National History Museum in London. A replica rests where the original was found, in Gough's Cave. The DNA of Cheddar Man was intact; and scientists from the National History Museum and from University College London, after extracting a few tiny amounts of bone powder from the skull, have found in the still-intact full genome variants associated with color of eye, hair, and skin, suggesting the dark skin and hair and blue eyes. The results can be seen in a striking facial reconstruction.
Discovery Expands Known Mayan Areas
February 4, 2018
Archaeologists using cutting-edge technology have revealed the ruins of more than 60,000 houses, palaces, elevated highways, and other evidence of Mayan civilization in Guatemala. The discovery could represent a major re-examination of the extent of the ancient Central American civilization. The area is a wide swath of what is now the sometimes think jungle canopy of northern Guatemala. The researchers used a new technology known as LiDAR (Light Detection and Ranging) to digitally strip away the vegetation, revealing the remains of human settlement underneath. Of particular interest to the archaeologists were the remains of elevated highways that connected urban centers and multifaceted industrial-sized farming systems, including not only terracing but also irrigation, suggesting that area previously thought uninhabitable because of thick jungles were, in fact, home to many, many people.
Spain Cracks 500-year-old King Ferdinand Code
February 4, 2018
Codebreakers have solved a 500-year-old mystery involving the king who sponsored Columbus's sailing to the New World. The king was Ferdinand of Aragon, who used a secret code to issue instructions to his top military commander, Gonzalo de Córdoba, during their country's campaigns in Italy in the early 1500s. The code contained 88 different symbols and 237 combined letters.
Team Fluff Repeats at Puppy Bowl, by a Nose
February 4, 2018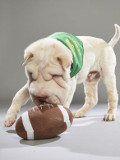 Team Fluff continued its dominance at the Puppy Bowl with a second straight triumph over Team Ruff. Unlike last year's blowout, however, this one was a squeaker. It was left to Kaleb Junior, a brave pup rescued from Hurricane Maria-ravaged Puerto Rico, who scored the winning goal, cementing a 52–47 victory for the Fluffy ones.
Teens Running for Top Statewide Office
February 4, 2018
The Kansas House Elections Committee is pondering an age requirement for candidates for statewide office, after reports that seven teenagers are running for governor and secretary of state.
The state of Kansas has no minimum age for candidates for governor. Kansas is one of two states with no such minimum; Vermont is the other. Kansas also has no minimum age requirement for candidates running for lieutenant governor, attorney general, or secretary of state. A 13-year-old is running for governor in Vermont.
4,440-year-old Tomb Built for Powerful Priestess
February 4, 2018
A tomb discovered near Cairo dates to 4,440 years ago and is thought to belong to a high-ranking priestess, Egyptian officials said.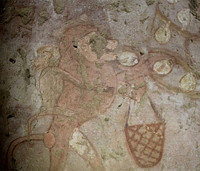 The tomb, found in Giza's western necropolis, belonged to Hetpet, a priestess of the goddess Hathor and known associate of Egyptians of the highest authority, said Antiquities Minister Khaled al-Enany. Notable as well was the relatively good condition of the contents of the tomb, including wall paintings not always seen in such tombs: grazing animals, people gathering fruit, and monkeys eating fruit and dancing in front of musical accompaniment. Monkeys were often kept as pets at this time.
10,000-year-old Crayon Found in England
January 28, 2018
Archaeologists in the United Kingdom are convinced that they have found a 10,000-year-old crayon. The utensil, reddish-brown and made from ocher, is less than an inch long and about a quarter-inch wide; one end was sharpened. The utensil, along with many other items including an ocher pebble that dates to the same time period, were found at a site called Star Carr, near Lake Flixton, in Scarborough, in England's Yorkshire. The area was a lake long ago but is now covered in peat. Ocher was used by ancient hunter-gatherers to repeal insects and sunburn and to help preserve animal hides. Now, after re-examining an object first found a few decades ago, a team of archaeologists have concluded that one piece of ocher shaped like a modern pencil was used as a primitive crayon, to apply color to things, or as a tool for doing art.
Women Outnumber Men Entering Oxford
January 28, 2018

Oxford University, one of the oldest postsecondary institutions in the United Kingdom if not the world, has admitted more women than men for the first time in its history. Oxford doesn't have an official founding date, but references to it have appeared in texts for about a millenium. The Oxford website says that teaching existed there "in some form" in 1096. The latest data from the U.K. Universities and Colleges Admissions Service included stats showing that in 2017, incoming female undergraduates numbered 1,070 and incoming male undergraduates numbered 1,025.
Coffee and Canines: NYC Opens Dog Café
January 24, 2018
Not be outdone by Los Angeles, New York has opened a dog café. It's Boris & Horton, in Manhattan's East Village. This dog café will be having weekend adoption and fostering sessions; but having cats on hand in the hopes that human visitors will take them home, as with cat cafés, is not the everyday mission of Boris & Horton. The café is named for the dogs of the two owners: Coppy Holzman owns Boris, and Logan Mihkly (Coppy's daughter) owns Horton. The owners chose the location because of its proximity to Tompkins Square Park, a popular nearby dog and owner hangout. Across the street is an animal hospital.
'Dirty' Taj Mahal Getting Mud Bath Cleansing
January 23, 2018
Workers are covering the Taj Mahal, one of the world's most famous monuments, with mud. It's all part of an effort to give the 17th-Century mausoleum a good cleaning. It's not just normal mud, though. What cleaners are applying is known as Fuller's earth, a mud paste that serves as a method of absorption of the large amounts of dirt and grease that have accumulated on the famous white walls through the years. The mud is left to dry for a day or two, held in place by polythene sheets. Then, just like the mud packs that people put on their faces, the Taj Mahal mud coverings will be washed off. Similar methods of preservative cleaning have been used in Italy and in the United Kingdom.
Rosie the Riveter Inspiration Dead at 96
January 22, 2018
The inspiration for the iconic Rosie the Riveter, symbol of wartime women's "We Can Do It!" attitude, has died. Naomi Parker Fraley was 96 when she died in Longview, Wash. A longtime California resident, Fraley was not long identified as Rosie the Riveter; instead, another woman lay claim to that identity for several decades.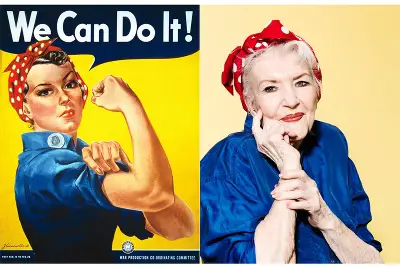 All Pennsylvania Congressional Districts Invalid
January 22, 2018
Pennsylvania's Legislature has until February 15 to come up with a replacement for the state's congressional map, in the wake of the state's Supreme Court striking down the boundaries for all 18 congressional districts. The 5-2 decision included a proviso that the state high court would take it on itself to put a plan in place for the May 15 primary elections if the Legislature did not meet its timeline and Gov. Tom Wolf did not sign the bill into law.
Longest Underwater Cave Contains Mayan Relics
January 22, 2018
Divers in Mexico have discovered what is the largest known underwater cave, stretching 216 miles underneath the Yucatan Peninsula. The cave is a network of sorts, connecting two large caves, Sac Actun, measuring 163 miles, and Dos Ojos, measuring 52 miles. The team who discovered the connection, Gran Acuĺfero Maya (GAM), have named them the Sac Actun cave system. The system is near Tulum, a beach resort in the state of Quintana Roo that was a walled city in the times of the Maya, one of Mexico's most well-known ancient societies. Maya thrived throughout Mexico and Central America from about 1800 B.C. to the 9th Century A.D.
Americans keeping warm in the chill, a North Korean pop princess, and more.
Ride-hailing Companies Recruiting Saudi Women Drivers
January 11, 2018
Two taxi alternatives are looking to make it big in Saudi Arabia, with women drivers. The Kingdom recently changed decades of law and practice and allowed women to drive. In a decision announced in October 2017, Saudi King Salman bin Abdulaziz said that women could begin achieving a driver's license in June 2018. Now, Uber and Careem, two ride-hailing applications, are recruiting female drivers.
China Unveils Longest Glass-bottom Bridge, Again
January 10, 2018
China has built yet another glass-bottomed bridge, this one even longer than the ones before it. The latest spans 1,600 feet over 715 feet of empty air, in between two mountain peaks in the northeast part of the country. A total of 1,077 glass panels that are 1.6 inches thick make up the 13-foot-wide bridge, which is in the Hogyagu Scenic Area, in Hebei Province.
Stoves of Jefferson Chef James Hemings Found
January 10, 2018
Archaeologists know a bit more about James Hemings, the enslaved head chef to Thomas Jefferson. Excavations underneath what had for many years been public toilets at Jefferson's Monticello homestead unearthed the remains of the kitchen used by Hemings to cook meals for Jefferson and his guests.
Snow Falls on 'Gateway to the Sahara'
January 9, 2018
Snow fell in an Algerian desert town for the second year in a row. The town, Ain Sefra, is known as the "Gateway to the Sahara."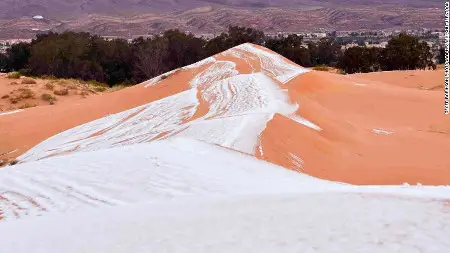 Ancient DNA Points to Newly Discovered Bloodlines
January 6, 2018
After examining the bones of two girls who died more than 11,500 years ago, archaeologists have concluded that they have found a new branch of Native Americans. Dr. Ben Potter, of the University of Alaska, discovered the girls' bones and other remains at the Upward Sun River site in Alaska's Tanana River Valley in 2006. The area was occasionally a stopping point for settlers arriving from Siberia. The girls' remains rested atop a hearth. An extensive DNA search of the remains determined that the girls had different mothers and also found a type of mitochondrial DNA (which passes to a child only through the mother) that is still found in Native Americans living today.
Iceland Companies Have to Prove Gender-equal Pay
January 8, 2018
Now in effect in Iceland is a law mandating that companies and government agencies that employ 25 or more people must prove that they grant equal pay for equal roles. The most prominent result is that women will now be paid the same as men for doing the same job. The Althing, the Icelandic government, passed the law in 2017, and the law took effect on Jan. 1, 2018. The country has had an equal-pay law since 1961, but that law required an employee to prove discrimination. The new law makes it mandatory and puts the onus on companies to prove that they are compliant. The government led by Prime Minister Katrín Jakobsdóttir has granted a four-year grace period. Small businesses and agencies must obtain a certificate from the government that says that the company's pay policies have been reviewed and match the terms of the law, which also aims to prevent discrimination based on ethnicity or orientation.
North Korean figure skaters, Russian hockey players, prizes that medal winners will get and more.