Marquis de Lafayette: Revolutionary War Hero
---
The Marquis de Lafayette was a war hero in both America and France. He was instrumental in bringing about a handful of Colonial Army victories during the Revolutionary War and helped write France's founding civil rights document, the Declaration of the Rights of Man and Citizen.
He was born Marie-Joseph Paul Yves Roch Gilbert du Motier de Lafayette on Sept. 6, 1757, in Chavaniac, France. His was a family with a long tradition of military service. One of his ancestors served with Joan of Arc at the Siege of Orléans during the Hundred Years War. His great-grandfather was the commander of the Black Musketeers, the personal guard of King Louis XV. His father died at the Battle of Minden during the Seven Years War. When that happened, Lafayette's mother, Marie, went to Paris to live with her father. Rearing Lafayette was his father's mother, Mme de Chavaniac.
Lafayette's mother was ready to be reunited with her son in 1768 when the young boy was 11. He lived in Luxembourg Palace, also with his great-grandfather, and attended school at the Collège de Plessis, at the University of Paris. Both his mother and his great-grandfather died within three weeks of each other, in April 1770, and Lafayette was an orphan with a fortune. A year later, an uncle died and left him even more money.
Lafayette had started in a program to train future Musketeers and, at age 14 in May 1771, he attained the rank of sous-lieutenant. He was able to continue his studies because his duties were mainly ceremonial.
He married Marie Adrienne Françoise in 1774. It was an arranged marriage, but the young couple fell in love anyway. Lafayette had signed a marriage contract the year before the wedding and, in the months leading up to the wedding, lived in his future father-in-law's estate in Versailles. At this time, he was studying at the prestigious Académie de Versailles. He gained an appointment as captain in the Noailles Dargoons Regiment and, during training, met the Army of the East commander, Comte de Broglie, who did two things that changed Lafayette's life: He invited him to join the Order of the Freemasons, and he told him about the Revolutionary War.
Lafayette wanted to join the American cause and found a willing listener in Silas Deane, who acted as a liaison between American and French forces. Largely because of his wealth, Lafayette gained an offer to join the Colonial Army at the rank of major general. His father-in-law did not approve and sent him to London. There, Lafayette met King George III and also met Sir Henry Clinton, one of the British Army commanders in America. Again stating his desire to go to America, Lafayette again faced resistance from his father-in-law, who convinced France's King Louis XVI to issue a royal pronouncement that banned French officers from serving in America. Lafayette, refusing to obey, bought a ship, the Victoire, and sailed for America. He left France on April 20, 1777, and arrived on June 13, near Georgetown, S.C.
He made his way to Philadelphia, to appeal to the Continental Congress to let him join the Colonial Army. Despite Deane's offer, the Congress was reluctant. Lafayette made known his membership in the Freemasons and also offered to serve without pay. Congress reluctantly agreed, took up him on his offer to serve without pay, and issued an unspecified commission, dated July 31 1777. He was not assigned to any unit and was so incensed that he would have gone home again if not for the intercession of Benjamin Franklin, who sent a letter to General George Washington, urging the commander-in-chief to accept Lafayette as an aide-de-camp. Washington agreed to meet young Lafayette, and the two met at a dinner in Philadelphia on August 5, 1777.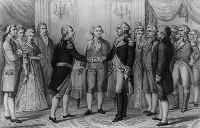 Washington took a liking to the young Frenchman and accepted him as a member of his staff, putting him to work right away at the Battle of Brandywine, on Sept. 11, 1777. Lafayette sustained a leg wound during the battle, a British victory, but did not leave for treatment until he had secured an orderly retreat for his men. Lafayette went briefly to Bethlehem, Pa., to heal.
It didn't take him long. He was back in action soon, commanding a division under Major General Nathanael Greene. Lafayette found success on November 25, at the Battle of Gloucester, in which the Colonial Army defeated troops led by Major General Lord Charles Cornwallis.
The Board of War instructed Lafayette to go to Albany in order to oversee a planned invasion of Canada. Lafayette, who was good at keeping an ear to the ground, warned Washington before he left about a possible plot to overthrow the commander. Lafayette's suspicions proved correct, as Thomas Conway and Horatio Gates attempted to relieve Washington of his command and replace him with Gates. Washington prevailed and sent the two would-be ringleaders packing.
When he inspected the men, munitions, and supplies in Albany, Lafayette was dismayed at how little he had to work with; in fact, he was convinced that such an invasion wouldn't succeed. Congress decided not to go ahead with invasion, and Lafayette rejoined Washington and the army, who were at Valley Forge. They suffered through the brutal winter together.
In the spring, Washington sent Lafayette at the head of a couple of thousand soldiers to discover what the British were doing in Philadelphia. The British Army marched out to meet Lafayette and his force; as a result of the Battle of Barren Hill, the Colonial Army had to retreat. Lafayette had more success at the Battle of Monmouth, the battle where Molly Pitcher famously gained her name.
Washington then sent Greene and Lafayette to Rhode Island, to help bolster the American forces in an attempt to drive the British from the tiny colony. The American defense force was supposed to coordinate with a French fleet led by Admiral Comte de d'Estaing, but the French naval support did not arrive because d'Estaing diverted his fleet to Boston in order to compensate for storm damage. It appeared to be a rift between American and French forces. Lafayette got permission to go to France in order to try to smooth things over; he was rewarded by an official detainment, a holdover from his earlier refusal to obey the king's order not to serve in America. He was free to move around but not to leave.
Lafayette took advantage of his time in France to work with Benjamin Franklin, America's representative in France, to help convince the French to send more troops to America. They were ultimately successful, and Lafayette returned to the fight in May 1781, along with General Jean-Baptiste de Rochambeau and 6,000 men.
Washington was glad to see Lafayette again and sent him to Virginia, targeting Benedict Arnold, who by this time had joined the British Army. Lafayette also kept track of the slow northward movement of Cornwallis, after his stinging defeat the hands of Greene at the Battle of Guilford Courthouse. Lafayette was instrumental in keeping Cornwallis cornered at Yorktown until Washington's army and the French fleet arrived; he then took part in the Battle of Yorktown and was present at the surrender.
His work in America completed, Lafayette sailed for home, arriving in December 1781. He kept on serving in the armed forces, gaining a promotion to field marshal and also helping develop trade deals between France and the United States. He received a hero's welcome on a tour of the U.S. in 1782.
Lafayette played a prominent part in French affairs at the beginning of the French Revolution. King Louis XVI appointed him to the Assembly of Notables, a gathering of officials who were supposed to solve the country's economic woes. He attended the famous Estates-General and joined the National Assembly, representatives bodies both; he then helped write the Declaration of the Rights of Man and Citizen.
He was the leader of the National Guard and helped protect the king during a protest march on Versailles in October 1790 and again in Feb. 28, 1791, in an episode of aristocratic uprising known as the "Day of Daggers." The following year, he led a French army during the War of the First Coalition. He was targeted as a royalist because of his past protection of the king, and he sought refuge in the Dutch Republic. He didn't make it there; instead, he was captured and held in prison for several years.
Lafayette largely disappeared from public life for the rest of the series of wars that dominated French life until 1815. In that year, he took a seat in the Chamber of Deputies; he served in that capacity for several years.
In 1824, he embarked on one last tour of the country he had fought to free from the British yoke; again, he received a hero's welcome. He was the first person to be made an honorary U.S. citizen.
Lafayette had one last chance at political power. The July Revolution in 1830 resulted in the overthrow of Charles X, and those in charge offered Lafayette the chance to become a dictator; he refused, and Louis-Philippe was crowned king. Lafayette accepted his final commission, a reinstatement as commander of the National Guard.
After a battle with pneumonia, he died at 76 on May 20, 1834.