The Battle of Yorktown
---
Part 1: The Battle Takes Shape
The American victory at Yorktown was the last major land battle of the Revolutionary War. The victory was the combination of stealth, luck, strength in numbers, and solid military planning and execution.
France had recognized the United States as a sovereign nation in 1778, in large part as a result of the American victory at Saratoga. French ships went to work fighting British ships, and French involvement for the first two years of the Franco-American alliance was largely at sea, either fighting the British on the high seas or supporting American land maneuvers on the eastern seaboard. In 1780, however, French land forces got involved in the war in a big way.
Great Britain had evacuated Newport, Rhode Island, in 1779. France soon made it a naval base. And in July 1780, Admiral Charles Chevalier Destouches and 5,500 French soldiers landed in Newport. The plan was to support an American invasion of New York City, which had been in British hands since 1776. George Washington was very much in favor of this plan. Lieutenant General Jean-Baptiste comte de Rochambeau had other ideas, however.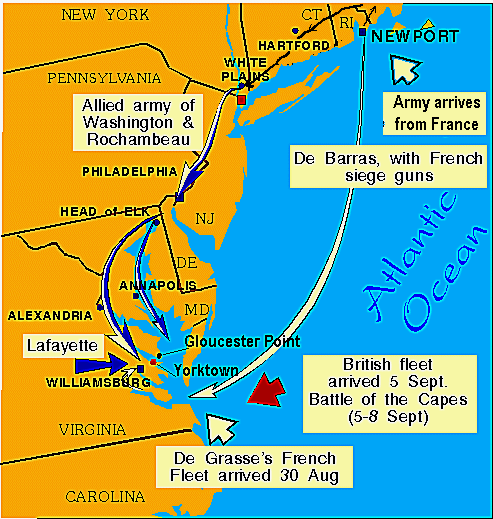 Rochambeau was more in favor of confronting British troops in Virginia, and he wanted a large contingent of ships and men to sail into the Chesapeake Bay to do battle with General Charles Cornwallis, the British overall commander of the Southern Army. Cornwallis had most recently suffered defeat at the hands of Americans in superior numbers at the Battle of Guildford Courthouse, in Greensboro, N.C., and decided to leave the battlefield to the Americans under Nathanael Greene. That followed on the heels of mixed results in the South, such that Cornwallis and his men decided to move north and arrived in Petersburg, Va., on May 20.
Reinforcements arrived from New York, and British forces at this time numbered more than 7,000 men. American forces under Marquis de Lafayette numbered half that of the British but soon linked up with troops under Baron von Steuben and Anthony Wayne for a total of 4,500 men. Cornwallis sent his forces across the Virginia countryside, harassing Lafayette's supply lines, then made for Williamsburg, with Lafayette in pursuit. The next set of orders to Cornwallis from General Henry Clinton were to go to Yorktown and fortify it.
Next page > On the Sea and on the Land > Page 1, 2, 3
Search This Site
Custom Search