Pearl Harbor: A Personal Journey
---
Part 1: The Memorial Process
I recently went to the USS Arizona Memorial at Pearl Harbor. Seeing the memorial affected me in a big way.
The Arizona was the battleship that sank in just a few minutes when a Japanese torpedo hit one of its gun magazines during the December 7, 1941 bombing of Pearl Harbor. A total of 1,178 men died when the Arizona sank.
The first thing you do when you get to the Memorial is get your tickets. They're free, but they're usually for a few hours later. My wife and I got there early in the day, so we didn't have to wait too long.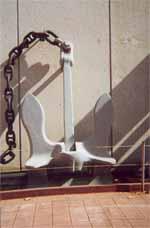 While you wait for your tour to start, you check out the Arizona's anchor, as well as look at museum-like displays of the attack, the ships and planes involved, and pictures of both the attack and the history of the Arizona.
The tour begins with a slideshow. Taking your tickets as you enter the auditorium is usually a Pearl Harbor survivor. The slideshow has pictures and maps and graphics of the attack, along with voice-overs of survivors. You learn more about the attack, why the Japanese thought it was necessary, and what exactly happened on December 7 and in the days that followed.
Then, it's off to the battleship.
Next page > The Battleship > Page 1, 2