---
Benjamin Lincoln: Continental Army Commander

Share This Page

---
Follow This Site



Benjamin Lincoln was a well-known Continental Army commander who had great successes and suffered through one harsh surrender before stepping into history as the receiver of the British surrender at Yorktown.
He was born on Jan. 24, 1733, in Hingham, Mass. He received a standard level of education and then followed in his father's footsteps as a farmer.
Lincoln began his military career as part of the British Army during the French and Indian War. He was commander of his local militia regiment, providing administrative duties for the regiment of his father. He continued in administrative fashion after the outbreak of the Revolutionary War, getting food and supplies in and out of Boston after it was under siege. He joined the Continental Army as it retreated north from New York City, and Lincoln was with George Washington at the Battle of White Plains.
Lincoln returned to Massachusetts to recruit new troops and then reported to Washington again, in his winter quarters at Morristown, N.J. By this time, Lincoln had been appointed major general. His first command at that rank was an exercise in escape, spiriting away from the superior numbers of the British under General Charles Cornwallis at Bound Brook. Lincoln next went north, to help Major General Philip Schuyler check the moves there of General John Burgoyne. While in the north, Lincoln had a run-in with Brigadier General John Stark and then began a staged attack on the strategically placed Fort Ticonderoga. Lincoln's men seized all of the area around the fort but didn't have the artillery needed to sustain a siege so withdrew.
Lincoln marched to his men to Bemis Heights, where they took part in the historic Battle pf Saratoga. He began the second stage of the battle in charge of the defense force but, on the following day, brought his men up to the front and sustained a severe ankle wound from a musket ball. Recovery took him out of action for 10 months. He rejoined the army in August 1778 and was named commander of the Southern Department the following month.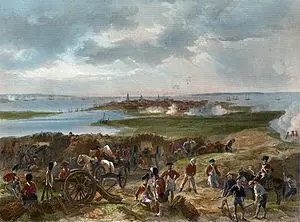 Lincoln arrived too late to keep Savannah from falling into British hands, but he was at the helm of a joint American-French attack to retake the city, which began on September 16. The British forces withstood the siege long enough for the French fleet, worried about hurricanes, to sail away, leaving Lincoln no choice but to retreat to Charleston. It was there in March 1780 that a large British forced led by General Henry Clinton achieved one of his country's biggest victories of the war. The besieged were no match for the invaders, and Lincoln surrendered himself and more than 5,000 men unconditionally on March 12.
Lincoln found himself a prisoner of war but one who was told he could spend the time at his farm in Massachusetts. He found his freedom after an exchange that saw two British officers who had been captured at Saratoga back with their comrades. Washington and the Continental Army chose to pursue no inquiry into Lincoln's actions at Charleston, and Lincoln rejoined the army, which by this time was hemming in Cornwallis around the Virginia city of Yorktown. Lincoln and his men took part in the fighting, which resulted in an American victory.
The surrender ceremony took place on Oct. 19, 1781. The British commander, Cornwallis, said that he was too ill to appear at the ceremony and instead sent Brigadier General Charles O'Hara to hand over his sword. O'Hara first tried to surrender to the French commander, Rochambeau; this did not find favor with the French or the Americans. Told to surrender instead to the Americans, O'Hara found himself handing his commander's sword not to the Continental Army commander-in-chief, Washington, but to his by-then second-in-command, Benjamin Lincoln.
He did briefly take up arms again, in 1787, as part of a privately funded army put together to squelch Shays's Rebellion.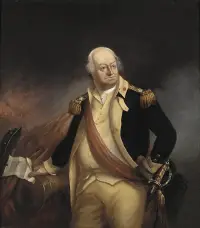 He also had a long career in public service. He was town constable at age 21, town clerk when he was 24, a member of the provincial assembly and the Massachusetts Provincial Congress, and a member of a committee of safety; all of that occurred before and during the Revolutionary War. After the war, he served as national Secretary of War, Massachusetts lieutenant governor (under Gov. John Hancock), and as a member of his state's constitutional convention. His last posting was as collector of the Port of Boston, from which he retired in 1809.
Benjamin Lincoln died on May 9, 1810.