Tanks Latest Part of Crackdown in Syria
---
May 8, 2011
The violence continues against anti-government protesters in Syrian cities.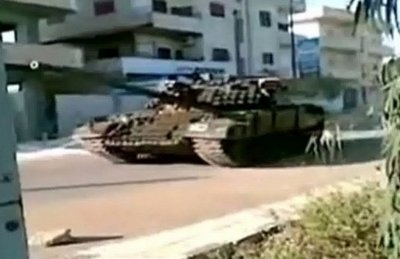 The latest instance was of tanks rolling into Homs, the country's third-largest city, to convince protesters to abandon their marches and calls for political reform. Residents of other towns reported tanks in their streets as well.

Armed security forces accompanied the tanks and were seen firing on crowds. More than 600 people have been killed since the March 18 beginning of the uprising, in Daraa. The attacks against protesters were ordered by President Bashar al-Assad, focus of the protest movement.

Al-Assad has been in charge of the government for just 11 years, succeeding his famous father, Hafez Assad. The younger al-Assad, in the wake of the resignation of Egyptian President Hosni Mubarak, initially agreed to consider the governmental reforms but, when confronted by renewed protests for even more reforms, responded by ordering violent crackdowns and large numbers of arrests. Witnesses reported security forces going door-to-door in some cities, searching for protesters to arrest. In the meantime, the government has also shut down electricity and communications in several key areas of a few cities.
World leaders have been outspoken in their condemnation of the violence in Syria. U.S. President Barack Obama announced a new set of sanctions on Syria, and the European Union announced an arms embargo against the Damascus government.
Echoing the sanctions and the embargo was the United Nations, whose highest human rights group issued a stark condemnation of the violence.

Social Studies
for Kids
copyright 2002-2014,
David White
---