Hundreds Arrested in Syria
---
May 1, 2011
The Syrian government has ordered large numbers of arrests in Daraa, home of the protests against President Bashar al-Assad and his authoritarian regime.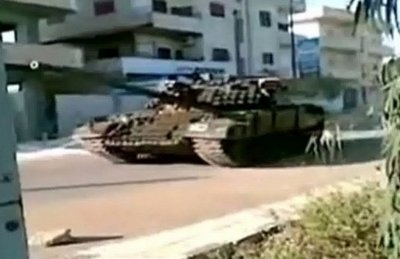 The arrests, after which observers reported seeing large numbers of people being led away from their homes in handcuffs, come in the wake of large numbers of power outages in the city and a day after tanks and troops descended on areas frequented by protesters, including a mosque. The government has targeted Daraa because so many of the protests have occurred there, but the crackdown has extended to other cities as well.

An international human rights group has estimated that more than 550 civilians have died since Syrians started speaking out seven weeks ago against the government in the wake of successful protests in Tunisia and Egypt. The president and his new prime minister, Adel Safar, have promised a host of reforms in the political, judicial, and economic systems but have provided little detail.

Meanwhile, other world leaders continued to speak out and take action against the violence. U.S. President Barack Obama announced a new set of sanctions on Syria, and the European Union announced an arms embargo against the Damascus government. It was not immediately clear how detailed the sanctions or the embargo were. Other world leaders have called for more stringent control over Syria's actions on the world stage.

Echoing the sanctions and the embargo was the United Nations, whose highest human rights group issued a stark condemnation of the violence.

Social Studies
for Kids
copyright 2002-2014,
David White
---