120 Protesters Killed in Syria
---
April 24, 2011
In two days, Syrian security forces have killed 120 people around the country. The shots fired on the second day were into a funeral procession for protesters killed in earlier crackdowns ordered by President Bashar Assad.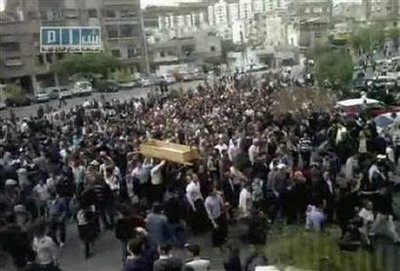 Unlike Egyptian President Hosni Mubarak, who fled power after largely nonviolent responses to a growing number of protests, Assad has fought back against calls for his ouster and reform of his government, firing bullets and tear gas into crowds of protesters. Hundreds of people have been injured as well, in part because of attacks with stun guns.

Some responses from the government have been nonviolent: Assad has offered to grant citizenship to the country's Kurdish minority and to form a new government but according to rules to which both sides would agree. He has also fired all of his government ministers and named Adel Safar, the former agriculture minister, to head a new Cabinet. More importantly, Assad has recently lifted the country's emergency laws, something that Mubarak never did.

The number of deaths is alarming to many international observers, who have called for restraint from both sides. Crackdowns in other Middle Eastern and African countries, notably Bahrain and Yemen, have been less violent.

Social Studies
for Kids
copyright 2002-2014,
David White
---