Middle East, Northern Africa Alive with Protests
---
March 4, 2011
The recent protests in Egypt, Bahrain, and Libya are not isolated events. All across the Middle East and northern Africa, people have been taking to the streets by the thousands, sometimes the tens of thousands, to speak out against what they see as government oppression. A common thread among most of the countries is a strong central government, headed by a member of a royal family with a long legacy of rule or a very rich man who has managed to hold on to power because until now, his people have not thought it safe to question such things.

Clashes continue in Iran between forces loyal to the government and crowds still smarting from an alleged rigged election two years ago, although the crowds in these protests are small and, at times, outnumbered by police, who soon put a stop to the shouting.

Iraq, as well, has been the setting for anti-government protests, as people have gathered in the thousands on the streets of various cities to protest against a continuing deterioration of conditions that has, for many people and cities, not improved with the departure of Saddam Hussein.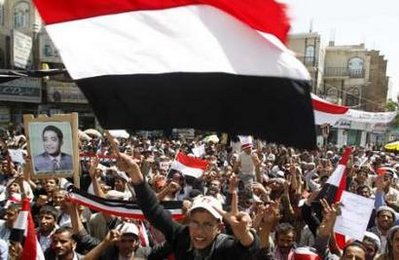 Another flashpoin is Yemen, whose president, Ali Abdullah Saleh, has promised to step down after elections in 2013. That has not been good enough for the tens of thousands of people who have gathered in public places in Sanaa, the capital, and in other cities. Yemeni army soldiers have responded in some cases by firing back at crowds of people throwing rocks.

Protesters in Oman are demanding more of a say in the government now run by Sultan Qaboos bin Said, even above his recent offer to hire 50,000 people and to pay unemployment benefits to many people currently out of work.

Large numbers of people have also protested in Jordan, Djibouti, and in Palestinian-held territory.

Over in Africa, the government in Algeria is also under fire. President Abdelaziz Boutefika recently announced the cessation of the nation's 19-year-old state of emergency (one of the key demands of Egypt's anti-government protesters). People protesting in Algeria are speaking out in the wake of sky-high food prices, very high unemployment, and very low housing allowances.

Even in Tunisia, where large waves of protests forced the leader to flee the country, people continued to press for more and more reforms, emboldened by the high-profile success of the people who gathered in Cairo's Tahrir Square day after day and eventually succeeded in convincing President Hosni Mubarak to give up his 40-year-grip on their lives.

Social Studies
for Kids
copyright 2002-2014,
David White
---