Three Reactors Had Meltdown, TEPCO Says
---
May 24, 2011
More of the situation at the Fukushima Dai-ichi Nuclear Power Plant is now clear, as the Tokyo Electric Power Company (TEPCO) has confirmed that meltdown occurred at three of the plant's six reactors. Initial reports were of only one meltdown reactor, in large part because TEPCO officials feared a widespread panic in Tokyo and other cities if residents there knew the full extent of the disaster.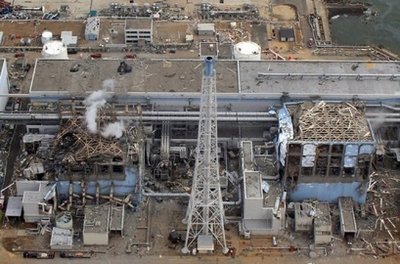 The announcement came just ahead of a visit by investigators from the International Atomic Energy Agency, who will be in Japan for two weeks, inspecting relevant areas, and then report to the United Nations. Among other details of TEPCO's announcement was the conclusion that the tsunami, not the 9.0-magnitude earthquake, did the most damage to the nuclear reactors, causing the subsequent overheating and radiation leakage that have garnered the most international headlines. A government-appointed scientist echoed TEPCO's assessment. The distinction is a key one because some of the country's other nuclear power plants, such as the one at Onagawa, went into deactivation mode as a response to the earthquake and no meltdown occurred there.

The most severe damage at Fukushima, including the shearing away of protective steel walls, occurred at the Number 1 reactor, but the Number 2 and Number 3 reactors also suffered damage as a result of the high-powered waves of the quake-driven tsunami.


Engineers are still struggling to fully stop radiation leaking from the plant, although the radiation levels are nowhere near what they have been. After initially relying on robots, workers have been able to return to the plant and carry on a task that they estimate will take several weeks still. An exclusion zone still extends for several miles around the nuclear plant.

TEPCO, whose president, Masataka Shimizu, recently resigned, continued to carry out a very public repair and recovery plan, with the Government announcing the formation of a committee to conduct a full investigation into the cause of the disaster and the responses to it.

Custom Search

Social Studies
for Kids
copyright 2002-2014,
David White
---