Explosion at Nuclear Plant Adds to Japan's Tsunami Woes
---
March 12, 2011
The earthquake and tsunami that devastated northeastern Japan have created another problem: nuclear instability. The nuclear power plant at Fukushima Dai-ichi, 170 miles northeast of Toyko, has reported an explosion that destroyed the building housing the nuclear reactor.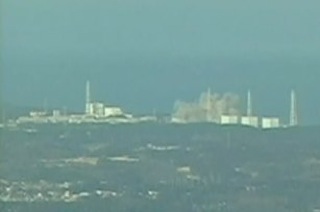 The reactor itself is encased in stainless steel 6 inches thick, but radiation is leaking out and water to cool the normally super-hot reactor is getting hard to find. (If the reactor doesn't stay cool enough, then nuclear radiation leaks out.) Officials urged people living within 12 miles of the reactor to leave.

Officials reported problems at two other nuclear reactors, but neither of those reactors was affected nearly as much as the one at Fukushima Dai-ichi.
The earthquake, which measured 8.9 on the Richter scale, struck off the coast of the country and triggered a massive 23-foot-high tsunami that brought untold devastation to a more than 1,000-mile-long swath of the northeastern coastline of the main island, Honshu. The destructive waves picked up cars, airplanes, and buildings and bashed them about, in some cases taking them back out to sea, in the strongest such natural disaster in Japan's recorded history.

Rescue efforts continued on a massive scale, as searchers from not only Japan but also many other countries, hunted for
thousands of people reported as missing. The death toll was already at 686, with 1,426 injured. Entire trains full of people were reported missing. Whole airports were destroyed. One town had reported 9,500 people missing.

Millions of people remained without homes or, if they did still have them, without electricity and/or running water. Fires still burned out of control in many areas, as factories, homes, and streets lay in ruins.

Tokyo, Japan's capital city, was nearly deserted on what would otherwise have been a busy Saturday. Worried about aftershocks, tsunami damage, and friends and relatives, Tokyoites either stayed home (most of them) or (a few) congregated in public places only to watch the news.
Elsewhere in the Pacific, island states and nations reported damage, some severe, as far away as the western coast of the United States, where harbor cities in California and Oregon reported damage to boats, docks, and coastlines.

Social Studies
for Kids
copyright 2002-2014,
David White
---