Robots Beam Back Info from Crippled Nuclear Plant
---
April 18, 2011
Japan has turned to robots to get back into the hidden places inside the Fukushima Dai-ichi Nuclear Power Plant.

The plant, crippled by the March 11 earthquake, is filled with high levels of radiation that make it unsafe for workers to conduct any sort of quickly progressing meaningful analysis of the true scope of the damage. Hence, the robots, which rolled on tank-like treads into the damaged plant, measuring pressure, radioactivity, and temperature.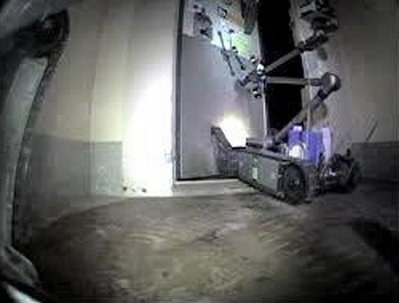 A pair of Packbots, made by the same company that makes the Roomba vacuum cleaners, made their way inside and, armed with cameras and other recording devices, showed the world how bad the damage was. The reports confirmed that the levels of radiation were too high for humans to stand for long and that pools of stagnant water full of radiation were potentially commonplace. The nuclear power plant has endured a series of explosions, leakages, and other disasters associated with the 9.0-magnitude earthquake. Another such kind of disaster is the damage to spent fuel rods, resulting in leakage of radioactive material as well.

Tokyo Electric Power Company announced that the plan to complete cleanup at the plant and return recently evacuated people to their homes (or home areas, if the buildings were not now available) would result in efforts taking the rest of the year, with some things being done more quickly than others. Still, more than 100,000 people are lacking some kind of permanent housing, either because they lost their residences in the resulting tsunami or because they have been forced to flea from radiation in the air, land, and water around Fukushima.


The Japanese government and TEPCO have recently come in for criticism at their handling of the twin disasters, both from within and without Japan. Opposition leaders in Parliament have been critical of Prime Minister Naoto Kan and the speed at which the government has responded to the myriad problems still confronting the country. Anti-nuclear protests have taken to the streets in growing numbers, calling for an end ot dependence on nuclear energy. Much of the country's energy comes from nuclear plants dotted across the landscape.

Recovery officials continued to struggle with poor conditions in much of the northeastern part of Honshu, Japan's main island. The number of people who are dead or missing is more than 27,000.


Social Studies
for Kids
copyright 2002-2014,
David White
---