---
Online Vote Drives Revamp of Monopoly Token Lineup

On This Site
Share This Page

---
Follow This Site



March 20, 2017
Players of the famed board game Monopoly will soon have three new tokens: a penguin, a rubbery ducky, and a T-rex.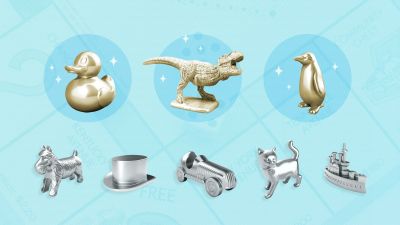 Those were the top three vote-getters in an online survey. The new three join the battleship, car, cat, Scottie dog, and top hat in the eight-token lineup that is standard for the classic property game owned by Hasbro.
In order to make room for the new three tokens, Hasbro jettisoned the boot, thimble, and wheelbarrow. The boot and thimble have been part of the token lineup since the game was invented in 1935; the wheelbarrow made its debut in the 1950s.
The company reported a total of 4.3 million votes during the January promotion, with votes coming from 146 countries. The online list of possible tokens included a total of 64; of those, 56 were new. The Scottie dog was the top vote-getter.
The crowd-sourced result was not the first time that Hasbro asked for public preferences on token choice. A similar effort in 2013 resulted in the addition of the cat and the removal of the iron.
The new lineup will appear in game sets in the fall.