Monopoly Fans Say Cat Hot, Iron Not
---
February 6, 2013
Furry friends trumped household items in the recently completed Monopoly token contest.
Joining the current cast of tokens will be the cat, the choice of 31 percent of people who voted via an online contest. According to Monopoly manufacturer Hasbro, the cat replaces the iron, which received the least support.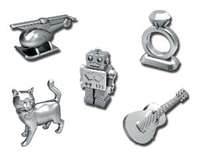 Voting took place via Facebook and spurred intense online interest, including from some manufacturers who were inspired to make videos supporting their token choice. (For example, Zappos created a video in support of keeping the iconic shoe token, which has been part of the lineup for many years.)
A total of five new pieces were on offer. Other than the cat, the choices were a diamond ring, a guitar, a helicopter, and a robot.
The cat will join the current lineup, which also includes the battleship, the Scottie dog, the race car, the shoe, the thimble, the top hat, and the wheelbarrow.
Voters were asked to choose which of the current tokens to keep, and the Scottie dog came out on top of that voting, with 29 percent.
The game of Monopoly, created by Charles Darrow, has been around for nearly 80 years, and the token lineup has changed several times in those decades. The original lineup had a cannon, a lantern, a purse, and a rocking horse. Other previous tokens have included a man on horseback and a sack of money.
Versions of Monopoly including the cat token will begin to appear later this year.
Custom Search
Social Studies
for Kids
copyright 2002-2014,
David White
---