---
100-year-old Fruitcake Discovered in Antarctica
August 13, 2017

Fruitcake can last a long time, even in harsh conditions. This might be something that many people would consider an urban myth, but proof has been found, not in the pudding but in the wrapper. The Antarctic Heritage Trust, a charity based in Christchurch, N.Z., reported finding a piece of fruitcake on the Cape Adare peninsula in frigid Antarctica and that the fruitcake was still wrapped in paper, inside what was left of a tin. What the researchers at the Antarctic Heritage Trust are excited about, other than the fact that they've found really old fruitcake, is that the cake made by the British company Huntley & Palmers, the preferred brand of British explorer Robert Falcon Scott.
King Tut Had Camping Bed Prototype: Study
August 6, 2017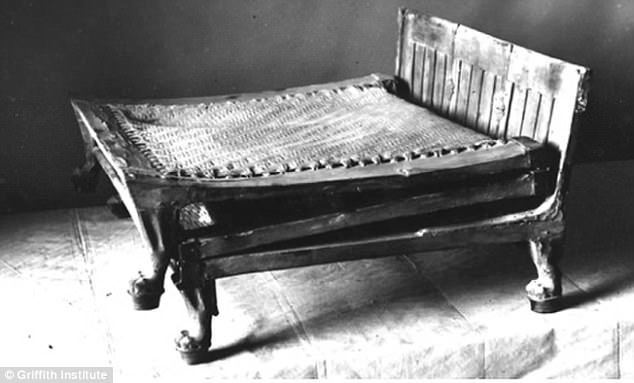 One of the comforts that the boy king Tutankhamen would have had is an early version of today's camping bed, researchers contend. Among the artifacts and riches discovered by Howard Carter's team when they opened the Egyptian King Tut's tomb in 1922 was a three-fold bed made of lightweight hardwood. Carter made a sketch of the bed, and later researchers took photographs of it; but until now, no one had done an in-depth study of the bed itself, its makeup, and its possibilities. A study done by Tokyo's Musashino University posits that the bed folded up into a Z-shape, thus folding three pieces into one. It is so far the only three-fold bed found in an Egyptian tomb; other found beds are two-fold.
Lusitania Telegraph Recovered from Ocean Floor
July 30, 2017
A vital communication machine from one of history's most famous shipwrecks is once again on dry land. Archaeologists have confirmed the recovery of the telegraph machine from the wreck of the Lusitania, the British ship that was sunk by a German torpedo during World War I and sank in 18 minutes, killing 1,198 of the 1,959 people onboard. Among the dead were 128 Americans.
Etruscan Honeycombs Found Preserved in Workshop
July 30, 2017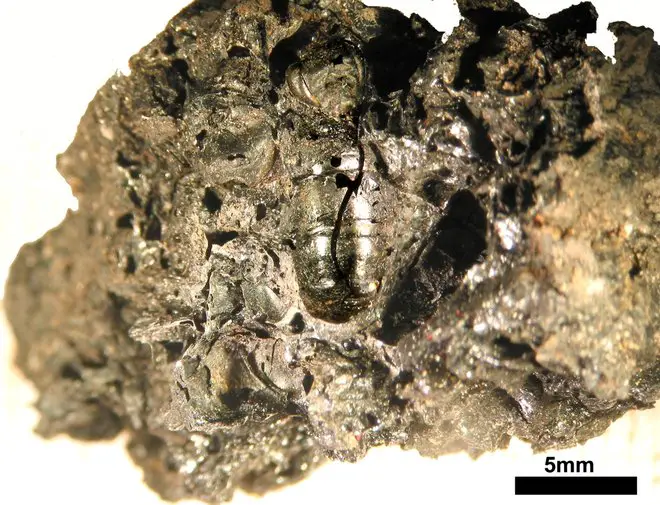 Archaeologists have discovered 2,500-year-old honeycombs in an Italian workshop once run by the Etruscans. Also among the findings were beekeeping artifacts and some bees. Remnants of bee production in ancient times are very rare. Even today, honeycombs don't last very long. The honeycombs were preserved because a fire had destroyed the workshop in which the honeycombs were stored and a subsequent layer of clay, to make way for another building, had provided an airtight seal for what was underneath.
Famed Civil War Sword Again Sees Light of Day
July 29, 2017
One of the symbols of African-American soldiers' participation in the American Civil War is back on public display, after changing hands several times in 150 years. The sword belonged to Col. Robert Gould Shaw, a white man who was in charge of the 54th Massachusetts Volunteer Infantry Regiment. The famed "54th Mass" was made up entirely of African-American soldiers, from both Canada and the United States. The regiment trained in the North and then followed orders into what many historians have viewed as an impossible task: taking the heavily fortified South Carolina stronghold of Fort Wagner.
3700-year-old Smiley Face Found on Painted Pitcher
July 23, 2017
The smiley face might be older than many people think. Archaeologists in Turkey have unearthed a pitcher that looks to modern eyes to sport a smiling face. The only paint on the pitcher is two dots above a swoosh. The pitcher is 3,700 years old.
New Robot Investigates Fukushima Radioactive Water
July 21, 2017
An underwater robot sent to survey a damaged nuclear reactor at the Fukushima Dai-ichi Nuclear Power Plant has survived its foray into radioactive waters, in the process sending back images of the devastation. The robot investigated damage to the Unit 3 reactor, caused by melted nuclear fuel that resulted from the meltdown that occurred in the wake of the tsunami that resulted from a powerful earthquake in March 2011.
New Memorial to Salem Witch Trials Victims
July 21, 2017

A memorial now occupies the space in Salem, Mass., where in 1692 people were killed because they were thought to be witches. The memorial is a crescent-shaped area the focus of which is a granite wall containing plates listing the names of each of the 20 people who died during the Salem Witch Trials.
Boy, 10, Discovers 1-million-year-old Fossil
July 21, 2017
A 10-year-old has discovered a fossil more than 1 million years old, by tripping over it. Jude Sparks, who is 10 now but was 9 at the time, was hiking in the desert near Las Cruces, N.M., when he fell, his movement tripped up by what turned out to be the fossilized tusk of a stegomastodon, which last lived 1.2 million years ago.