The Gettysburg Address

Lincoln gave this famous speech on November 19, 1863, at the dedication of a cemetery for soldiers killed in the famous Battle of Gettysburg.
The Story of the Gettysburg Address
Even though it was short, the famous speech wasn't just dashed off. Find out more about how and why Lincoln wrote.
The Gettysburg Address: Structure and Style
The speech is notable for its words and how they were chosen and arranged.
The Battle of Gettysburg
Find out more about this historic battle: the main players, the strategies, and the prelude and aftermath.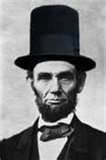 The Life and Legacy of Abraham Lincoln
Trace his life from humble beginnings through a law and political career and to his time as President, including his role in preserving the Union during the Civil War.
The Presidency of Abraham Lincoln
Lincoln faced challenges like no other President before him.
Quotes of Abraham Lincoln
Lincoln said or wrote a great many famous things.