'Sky Pool' to Tower over London Apartments
August 21, 2015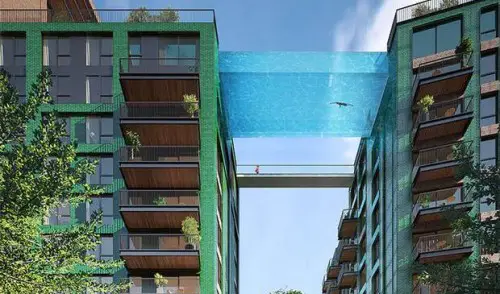 A 75-foot-long pool will soon join two London apartment buildings, 10 storeys up. It has been nicknamed the "Sky Pool," and it is the brainchild of Irish developer Ballymore, who own, among other things, a pair of buildings in the Nine Elms area of London. The bottom of the pool will be sheets of glass that are 8 inches thick. And because those sheets are glass, swimmers will be able to look down and see people, animals, cars, and other signs of life below them. The reverse, of course, is also true.
Solar-powered Mayflower in the Works
August 21, 2015
A solar-powered ship is planned for a crossing of the Atlantic Ocean to commemorate the 400th anniversary of the sailing of the Pilgrims' voyage. The new ship would also be called Mayflower. The project's designers are insisting that the ship be powered by renewable energy, in this case wind, water, and the Sun. Onboard experimens are also planned.
Jamestown: First English Colony in America
Explorers had been landing in America for some time before English settlers arrived in what is now Jamestown, Virginia, in 1607. But it was in that spot on the James River that English colonization began and with it, the history of America.
The Pilgrims: Voyage to Freedom
Follow the Pilgrims as they sail across the Atlantic Ocean, from England to America, in search of religious freedom. See who they meet when they land in New England. Find out about the first Thanksgiving.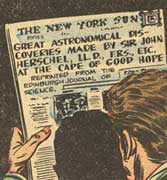 The Great Moon Hoax of 1835
The New York Sun printed a series of articles that became known as the Great Moon Hoax, beginning on August 25, 1835. Among the claims were that Earth's Moon contained the trappings of civilization, including animal life and even buildings. The series of six articles ran on consecutive days, and people believed the fantastic claims, so much so that circulation of the newspaper skyrocketed and the articles were reprinted in other countries around the world. One Italian publication even created lithographs of the exotic wildlife described.
The Burning of Washington, D.C.
The White House burned on August 25, 1814, the result of an attack by British forces during the War of 1812. It is the only time that the American capital was occupied by enemy forces. The British burned the Capitol and the Treasury and other buildings as well, forcing a mass exodus. President James Madison fled to a nearby Maryland town.
The 'I Have a Dream' Speech
On August 28, 1963, Martin Luther King, Jr., delivered his famous "I Have a Dream" speech at the Lincoln Memorial in Washington, D.C.

In this historic speech, King said he had a dream that white and black children would one day walk hand in hand and that one day sons of former slaves and sons of former slaveowners would be able to agree to live together.
Custom Search
Social Studies
for Kids
copyright 2002-2015,
David White
---