'Old Ironsides' Embarks on Virtual Tour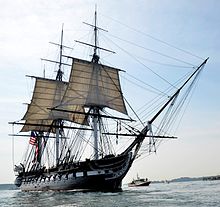 January 25, 2015
The U.S.S. Constitution, known more famously as "Old Ironsides," is now on Street View, in panoramic fashion. Google Maps has made available a 360-degree virtual tour of the famed ship, which will be moved to dry dock in March 2015 for a major restoration that will keep it closed to the public for three years. The restoration will replace the ship's famed copper siding, along with areas of the hull, stern, and interior. The virtual tour showcases the restored ship in its native environment, in the former Charlestown Navy Yard in Boston. Photos, taken in September 2014, show areas from above and below deck.
Remains of 5 Found in Alexander-era Tomb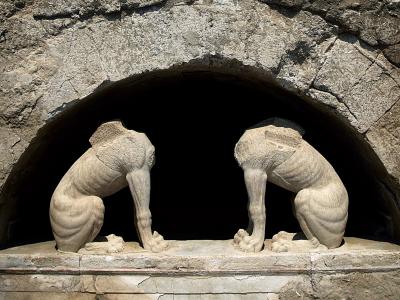 January 25, 2015
A Greek tomb dating to the reign of Alexander the Great contains the remains of five people, archaeologists say. A written statement from the Greek Ministry of Culture includes details of the excavations, with discovery of 550 bones, a skull, and cremated remains. The five people are a woman in her 60s, two men between 35 and 45, a newborn, and a cremated person of unknown age or gender. Also found were animal bones, including that of a horse. The three-chamber Amphipolis Tomb was discovered in 2012 and first entered in 2014. Authorities say that the tomb, also known as the Kasta Tomb, is the largest burial monument yet discovered in Greece.
Acid Rain, Other Pollutants Damaging Taj Mahal
January 25, 2015

Scientists have announced that the "browning" of India's famed mausoleum the Taj Mahal is being caused by pollution, most of it man-made. The findings, published in the December edition of the online journal Environmental Science & Technology, point to vehicle exhaust, trash burning, brickmaking, and even nearby agriculture practices as creating the carbon dust that has, since the 1970s, turned the ornate white tomb a rusty shade of brown.
Monopoly First Goes on Sale

Monopoly, the best-selling board game in the world, began as a simple idea of one man during America's Great Depression. Charles B. Darrow of Germantown, Penn., had the idea for the game, which he thought would be especially appealing to so many people in America at that time who were out of work and might find enjoyment in the promise of quick wealth. Darrow designed his game in basically the form that we have it today and took it to Parker Brothers, which by then was making games successfully. They rejected the idea, saying that it had a great many "design flaws." Find out what happened next.