Iditarod Off and Mushing
March 6, 2014
It's off to the races for 69 mushers and their dog teams in the annual Iditarod Trail Sled Dog Race. The 975-mile race, which alternates between two starting points, began this year in Willow, Alaska, about 50 miles north of Anchorage. Competitors dawdled through Anchorage a day earlier in an 11-mile cermonial appearance. Stages range from 18 to 85 miles and wind through 21 other Alaska villages, as well, as lots of frozen snow. Competitors are required to take three separate rest stops, one of 24 hours and two of eight hours. The winner is expected to reach the finish line, in Nome, in as few as nine days.
Stonehenge 'Musical,' Study Suggests
March 6, 2014
The giant bluestones of Stonehenge might have had sonic significance, according to a new study. Researchers at the Royal College of Art in London have found evidence that several of the stones at the famous giant circle were struck in ancient times. The researchers conducted their own striking tests, on stones in the Preseli Hills, source of some of Stonehenge's bluestones, and among their observed results was a series of tones, some that sounded like deep bells. Different rocks produced different sounds, along a range of metallic sounds from bell-like sounds to gong-like intonations.
Big Changes Ahead for College Entrance Exam SAT
March 5, 2014
The SAT is changing, for the first time since 2005. Administrators of the popular university entrance exam College Board have announced major changes, among them making the essay portion of the exam optional and offering another option, that of taking the test using a computer. The new exam will appear in 2016. Reading, writing, and mathematics skills will continue to be the focus. Questions in those areas will focus more heavily on analysis, College Board officials said. In math specifically, calculators will be allowed on only a select number of questions, and overall math questions will focus more on skills with real-world application.
Mexican Pyramid Could Crumble, Scientists Say
March 5, 2014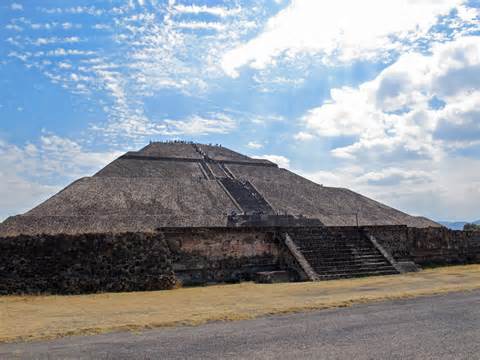 One of Mexico's largest pyramids is in danger of collapse, scientists say. The Pyramid of the Sun, in the lost city now known as Teotihuacan, has a dry side and a wet side, as discovered by 3D imaging carried out by a group of researchers from the National Autonomous University of Mexico. The 3D scans showed that one side of the pyramid was 20 percent less dense than the other, meaning that the dry side was in danger of crumbling. The scientists said that the risk of collapse was not imminent but was very real if some sort of repairs were not made. The phenomenon, the scientists said, was the same as that observed in Mexico City, which was built on what used to be a lake, and which sinks a few inches every year. The scientists differed in their support of repair theories, with some preferring structural repairs to the stones and others preferring to shore up the earth-filled interior.
Dates Announced for Indian Elections
March 5, 2014
India has announced dates for its national elections. Voters in the world's largest democracy will vote for candidates for the 543-member parliament in nine phases from April 7 to May 12. Four days of vote-counting later, elections officials will announce results. Turnout is expected to be high. About 814 million adults are eligible to vote in India, an increase of 100 million over the same figure available for the previous national election, which took place in 2009.
Fruits, Vegetables More Popular with U.S. Students
March 4, 2014
American students are eating more fruits and vegetables, a study has confirmed. The study, from the Harvard School of Public Health, offers findings that support one of the main assertions of the authors of the new federal standards for school nutrition, launched in 2012. Those standards, from the U.S. Department of Agriculture, required students to make more healthful choices for their school meals, primarily in the area of fruits and vegetables. Other changes in the standards were to make whole grains more available and to remove trans fats. In addition, limits were stipulated for sodium levels and total calories. The study surveyed more than 1,000 students in four schools, both before and after the introduction of the new standards and found a 23-percent increase in the consumption of fruit and a 16-percent increase in the consumption of vegetables. The study also found no marked increase in food waste.
Tunnels Discovered Under Alcatraz Prison
March 3, 2014

Scientists have discovered a series of tunnels under Alcatraz, the fabled prison situated on an island off San Francisco. The scientists, from Texas A&M University, found the 150-year-old tunnels using ground-penetrating radar to perform a scheduled scan of the former prison's recreation yard. But the tunnels were not a planned escape for gangster Al Capone or any of the other famous residents of Alcatraz. Rather, the tunnels, made primarily of dirt but reinforced in places with concrete, were a holdover from before the days of the prison, when the island was a military fort.
Nepal to Require Everest Climbers to Bring Back Others' Trash
March 3, 2014
The Government of Nepal has announced what amounts to a new trash tax on anyone who climbs Mount Everest. The new rules, which begin in April with the start of the climbing season, require all mountaineers and support staff who climb above Everest base camp to bring back 17 pounds of trash that is already on the mountain or pay a stiff fine. Government rules already require climbers to bring back their own trash or risk losing the $4,000 deposit that they pay before being granted passage upward. To get that money back, climbers have to present their own trash when they return down the mountain. A similar arrangement will presumably accompany the new rules.