CURRENT EVENTS
U.N. Wants You to Eat Insects
May 19, 2013
Bugs are right up there with cows, pigs, and chickens. The Food and Agriculture Organization, an arm of the United Nations, has issued a report adding insects to a list of viable sources. Specifically, the FAO has included a few hundred species of insects that are edible and, actually, nutritious. On the list are species of ants, beetles, caterpillars, cicadas, crickets, dragonflies, termites, and wasps.
THIS WEEK IN HISTORY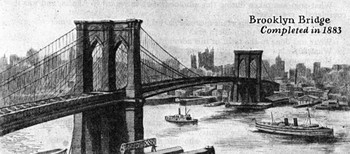 Brooklyn Bridge Opens to the Public
After a 14-year construction period, the Brooklyn Bridge finally opened to the public on May 24, 1883. When it opened, it was the longest suspension bridge in the world.
Custom Search
Social Studies
for Kids
copyright 2002-2013,
David White
---