Now AI Wins at Computer Games
March 1, 2015
Artificial intelligence now claims winning video games among its successes. Google has announced that a team of its scientists has created an AI system that can learn to better its performance under a number of varied circumstances, as exemplified by the system's demonstrating that it can teach itself to play Atari 2600 video games. The scientists gave the system, named "deep-Q-Network" (DQN), minimal information on the game or its various scenarios. Instead, the scientists built the system to use a machine-learning algorithm that enhanced its ability to "learn" from its experiences.
Olympic Commission Sees Progress in Rio Visit
March 1, 2015

A high-level group of visitors saw solid progress during a three-day visit to a number of event sites in Rio de Janeiro, host city of the 2016 Olympic Games. Reports in recent weeks of pollution in the nearby waters and of construction being behind schedule were not discussed. What was mentioned was the Rio team's full commitment to meeting all timelines, including getting facilities ready for the three waves of test events planned for the next several months.
Open-source Textbooks Gaining in Popularity
March 1, 2015
The latest report on open-source textbooks estimates that college students could save, on average, $128 per course. The report, released in 2015 by the Student Public Interest Research Groups, analyzed results from five colleges. The open-source textbook initiative got a powerful ally in the California State Government, which allocated funding in 2012 for dozens of open-source digital textbooks and an online library to store the books. Other states, Utah and Florida and Minnesota among them, are considering similar efforts at the highest levels of state government. Universities across the country have followed suit.
Voting Booth: Women Haven't Always Been Equal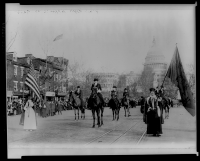 The history of women voting in America is a rather short one, with the Nineteenth Amendment, guaranteeing women's suffrage, being passed only in 1920. The story of success in that long struggle contains many names and events. Some of the most famous of those names are Susan B. Anthony, Lucretia Mott, and Elizabeth Cady Stanton. Along with other important women, these three led the fight to get women the right to vote, something that the Constitution would seem to have already guaranteed but that had to be clarified with an Amendment.
New Zealand: World's First for Women's Suffrage

America wasn't the first country to guarantee its women the right to vote, however. That honor belongs to New Zealand, whose women got to vote in 1893, thanks largely to the efforts of Kate Sheppard, leader of the Women's Christian Temperance Union. It also didn't hurt that Sheppard was a friend of the head of the government of the time.
Still, New Zealand can claim the right as first in the world in this regard.
Helen Keller Gets Famous Teacher
Helen Keller wasn't born an especially extraordinary child. But the fever that struck her when she was 19 months old robbed her of her sight and hearing. The result was an extraordinary person, one whose courage and accomplishments continue to inspire people all around the world. A large part of her inspiration and success came from the teaching of Annie Sullivan, who began instructing Helen on March 4, 1887.
Custom Search
Social Studies
for Kids
copyright 2002-2015,
David White
---