---
William Still: Father of the Underground Railroad

Share This Page

---
Follow This Site



William Still was a prominent abolitionist and businessman in 19th Century Philadelphia. The son of former slaves, he helped more than 600 slaves escape. He was known as the father of the Underground Railroad.
Still's parents were Levin and Sidney, also known as Charity. Both were at one time enslaved in Maryland. Levin, then named Steel, had purchased his own freedom and then changed his last name to Still in order to protect his new wife, a fugitive slave. When she escaped, she was able to bring only two of her four children with her. William Still was born in New Jersey in 1821.
William worked on the family farm and also found work as a woodcutter. He learned to read and write but did not have a formal education. When he was 23, in 1844, he moved to Philadelphia and began work for the Pennsylvania Anti-Slavery Society. He began as a clerk and then became an abolitionist leader. He also began to help fugitive slaves stay safe, especially after the passage of the harsh Fugitive Slave Law in 1850. The Anti-Slavery Society appointed Still head of the newly formed Vigilance Committee formed in the wake of the law's passage.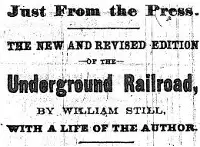 He married Letitia George in 1847; and he and his wife helped hide hundreds of escaped slaves. After realizing that he had met his long-lost brother, Peter (who was unable to accompany their mother when she escaped), Still determined to record the details of all those whom he helped escape. As a result, the book he published in 1872 included a large number of information about people who would have otherwise passed into history unremarked. Still's book was titled The Underground Rail Road: A Record of Facts, Authentic Narratives, Letters, &c. Narrating the Hardships, Hair-Breadth Escapes, and Death Struggles of the Slaves in Their Efforts for Freedom. In fact, Still is credited with coining the term Underground Railroad (Rail Road since shortened to one word).
Still was well-known in the Philadelphia area as the owner of a coal and stove business and as a leader of the fight for African-American civil rights. In particular, he was one of the leaders of a campaign to desegregate the city's public transportation system. In 1867, after the end of the Civil War, he published a pamphlet titled A Brief Narrative of the Struggle for the Rights of the Colored People of Philadelphia in the City Railway Cars; later that year, the city passed a law ending segregation on the public railways.
Also during the Civil War, he operated the post exchange at Camp William Penn, where African-American troops trained.
Still was active in other parts of civil life as well, organizing a YMCA for African-Americans and helping found a church (Berean Presbyterian Church) and a school (Mission School). He also founded an orphanage for the children of African-American Civil War veterans; owned considerable amounts of real estate, including Liberty Hall for a time; was a member of Philadelphia's Board of Trade; and was a co-founder of the magazine The Nation.
William and Letitia Still had four children: Caroline, William, Robert, and Frances. Still died in 1902 of natural causes. The New York Times obituary described him as "the father of the Underground Railroad."