Astronaut Wally Schirra
---

Share This Page

---
Follow This Site



Wally Schirra was the only American astronaut who was part of all three manned space programs.
He was born on March 12, 1923, in Hackensack, N.J., and grew up and went to school in Oradell, graduating from Dwight Morrow High School. While attending the Newark College of Engineering, he joined the Reserve Officer Training Corps. He enrolled in the U.S. Naval Academy after the attack on Pearl Harbor, graduated in 1945, and served aboard the cruiser Alaska in the last months of World War II. After one last assignment, he began training as a pilot at the Naval Air Station in Pensacola, Fla.
Schirra served in the Korean War as well, flying 90 combat missions in all during the three-year conflict. He was a test pilot at China Lake, Calif., for a time and then enrolled at the Naval Test Pilot School.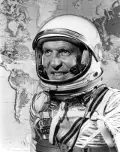 Selected as one of 110 military test pilots for the initial round of applicants to join Project Mercury, Schirra made the final cut. He flew aboard Sigma 7 on Oct. 3, 1962, orbiting Earth six times. Among the tests he performed was using controls at zero gravity without relying on sight.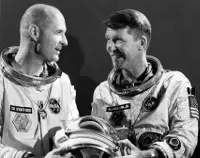 Chosen as well for Project Gemini, Schirra (right, right) flew with Tom Stafford aboard Gemini 6A and performed a successful in-space rendezvous with Gemini 7, the two spacecraft coming to within one foot of each other and they staying there for a considerable amount of time.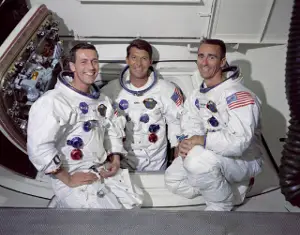 Schirra (left, center) was one of the select few named as astronauts in the Apollo program. What was supposed to be Apollo 2 became, eventually, Apollo 7, the launch of which was delayed because of the investigation that followed the fatal fire aboard Apollo 1. Apollo 7 finally launched, with Schirra, Walter Cunningham, and Donn Eisele aboard, on Oct. 11, 1968.
The nearly-11-day mission served to test the service propulsion system, docking maneuvers, and improvements made to the spacecraft and systems in the wake of the Apollo 1 fire. The main complication for the Apollo 7 was illness: Schirra developed a head cold within two days of blastoff, and he shared it with his crew. They canceled a planned television broadcast and because the conditions of space impeded their bodies' ability to drain fluids, had to suffer through blocked noses and ears for the duration of their spaceflight. The crew refused to wear their helmets during re-entry because they didn't want the in-helmet pressure to cause them any more pain. They landed without incident on October 22.
Schirra went on to a handful of other careers. Most immediately, he was a consultant for CBS News in 1969–1975, including stints as co-host with anchor Walter Cronkite for the Apollo Moon landings and for the ill-fated Apollo 13, which didn't make it to the Moon.
In the 1970s and 1980s, he founded a consultancy, served on various corporate boards and as president of an energy company, and worked at the Belgian Consulate.
Schirra was also an author, writing with his fellow Project Mercury astronauts a 1962 book titled We Seven. His autobiography, Schirra's Space, came out in 1988. He served as co-author on two high-profile books in the next two decades: Wildcats to Tomcats: the Tailhook Navy, which chronicled five decades of naval aviation, and The Real Space Cowboys, a return to the subject of Project Mercury. His final act of writing was as a contributor to the 2007 space program narrative In the Shadow of the Moon.
Late in life, Schirra contracted cancer. He died on May 3, 2007, in La Jolla, Calif., and was buried at sea. He was 84.
Search This Site
Custom Search