Astronaut Donn Eisele
---

Share This Page

---
Follow This Site



Donn Eisele was an Apollo astronaut and later a Peace Corps director and businessman.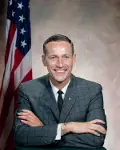 He was born on June 23, 1930, in Columbus, Ohio. An Eagle Scout, he graduated from West High School in 1948 and then jointed the U.S. Naval Academy, earning a bachelor of science degree in 1952. He followed that up in 1960, having joined the U.S. Air Force, with a master's degree in astronautics from the Air Force Institute of Technology, on Wright-Patterson Air Force Base, in his home state.
Following his keen interest in flying, Eisele graduated from the Aerospace Research Pilot School at California's Edwards Air Force Base in 1962 and then served as a project engineer to augment his test pilot duties at New Mexico's Kirtland Air Force Base. In all, he logged more than 4,200 hours in the air.
Eisele was one of NASA's third group of astronauts, selected in 1966 with an eye toward lunar missions. He was initially named as Pilot for the crew of the first Apollo mission, Apollo 1. However, he dislocated his shoulder twice during weightless training and had to have surgery. He was then named to the crew of the next manned mission, Apollo 7. (The numbers in between had been assigned to unmanned missions.)
The Apollo 7 crew stayed in space for nearly 11 days, during which Eisele took star sightings and used them in conjunction with onboard guidance systems. He also did testing of docking maneuvers. The crew fired eight tests of the service propulsion system, on which future crews would depend for getting the lunar module into orbit around the Moon and, of course, getting them back again.
Eisele was the backup Command Module Pilot for Apollo 10, in 1969. He transitioned into the Langley Research Center, as a technical assistant, and retired from both NASA and the Air Force in 1972.
He left the country entirely in that same year, to service as U.S. Peace Corps Country Director for Thailand. After two years in that role, he returned to Ohio and went into business, as a sales manager and then as an investment firm account manager. He served for a year on the city commission of Wilton Manors, Fla., where he had moved in 1980.
Eisele was on a business trip to Tokyo on Dec. 2, 1987, when he died of a heart attack. He was later buried at Arlington National Cemetery.