Sam Houston: Hero of the Texas Revolution
---

Share This Page

---
Follow This Site



Sam Houston was a soldier, lawyer, and lawmaker and was a hero of the Texas Revolution.
He was born on March 2, 1793, on his parents' plantation in Rockbridge County, Va. His father died when Sam was 13, and the family settled in Tennessee, at that time part of the frontier. His education was slight, although he did attend a local academy for a time. He lived with a group of Cherokee for a time and learned their language and customs, even taking himself the Cherokee name of Colonneh, given him by the chief Oolooteka.

When he was not yet 20, he enlisted the U.S. Army and saw action with Andrew Jackson at the Battle of Horsehoe Bend, surviving three near-fatal wounds. He was stationed in Nashville in 1817 and helped the Cherokee clan with which he once lived in their move to Indian Territory. He resigned his commission in the Army and turned to the law, studying with a local judge and then opening his own law practice, in Lebanon, Tenn. He won election to attorney general of the District of Nashville in 1818, served a term, then returned to his law practice in 1821.
Houston found himself in Jackson's political favor and enjoyed that influence in a run for Congress, winning election to the U.S. House of Representatives, representing the 9th District, and working for Jackson's election as President in 1824. (John Quincy Adams was was elected instead. Houston was re-elected to the House in 1825 and did not run for re-election, instead running for Governor of Tennessee in 1827. He won.
On Jan. 22, 1829, Houston married Eliza Allen. They separated a few months later, Eliza returning to Gallatin and Houston going to Indian Territory, returning to live with Oolooteka and the Cherokee. He enjoyed his time with the tribe, dressing as they did and marrying a Cherokee woman.
He traveled to various cities in the East, at one point meeting the famous Frenchman Alexis de Tocqueville, the author of Democracy in America.
Houston was so much a fan of Jackson that in 1832, he challenged one of his opponents, Ohio Rep. William Stanberry, to a duel and then attacked him with a walking stick when Stanberry refused. The result was a Congressional censure, after a trial in the House for which Houston's attorney was Francis Scott Key, the author of "The Star-Spangled Banner."
He had bought some land in Texas and went there to live. He was there at the start of the Texas Revolution and, because of his previous military experience, was elected head of the militia from Nacogdoches. He also set up a law practice in that town.
Houston eventually was named major general of the forces in Texas. A strategic thinker, he thought that the Alamo and San Antonio were less important to defend than other locations. He ordered Jim Bowie to evacuate the city of San Antonio after destroying the Alamo. Disagreeing, Bowie fortified the Alamo. Houston sympathized with calls for reinforcements from William Travis in March 1835, but he was having enough trouble sorting out the army and didn't have any troops to spare. Bowie, Davy Crockett, and 200 others died at the Alamo on March 6. Three weeks later, the Mexican Army executed 350 Texan prisoners at Goliad.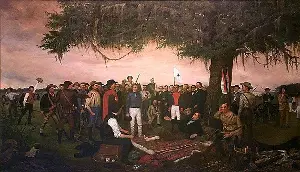 Still with barely enough men to hold a position, Houston avoided direct conflict with Mexican General Antonio López de Santa Anna, drawing the ire of American settlers in Texas. Houston caught a break when Santa Anna divided his army; in a surprise attack, Houston and his army defeated Santa Anna's division in the Battle of San Jacinto on April 21. The rout was so complete that Santa Anna was himself captured. Houston didn't escape unscathed: He sustained a severe wound and had his horse shot out from under him. The two leaders signed a treaty, ending the war over Texas.
The Republic of Texas, established in 1836, elected Houston its first president. He was elected again six years later, succeeding Mirabeau Lamar, who had succeeded him. Mexican troops invaded during his second term but were unable to make any headway. The town of Houston, named for him, was founded in 1836. He married Margaret Lea in 1840; they had eight children.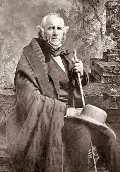 When the United States admitted Texas to the Union, in 1845, Houston was one of the new state's first two members of the U.S. Senate. (The other was Thomas Jefferson Rusk.) Houston served until 1859 and was then elected Governor of Texas, succeeding where he had failed four years before, defeating the incumbent, Hardin Runnels. Not a proponent of secession, Houston resigned as governor when the state legislature voted to secede from the Union in 1861. He had gained a reputation as a Unionist when in the Senate by expressing his support for the Missouri Compromise and the Compromise of 1850; however, he also voiced his disagreement with the Kansas-Nebraska Act because of its basis in Popular Sovereignty, which he opposed.
He retired to private life, in Huntsville, predicting that the Civil War would be disastrous for both sides. He fell ill in 1862 and died on July 26, 1863.
Search This Site
Custom Search