---
Kit Carson: Famous Mountain Man
Share This Page

---
Follow This Site


Kit Carson was one of America's most famous explorers, traders, and trappers. A trailblazer throughout the Old West, he spoke several languages and was known as both a friend to Native Americans and a conqueror of them.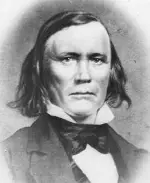 Christopher Carson was born on Dec. 24, 1809, in Richmond, Ky., to Lindsey and Rebecca Carson. Lindsey Carson had fought in both the Revolutionary War and the War of 1812. He had 16 children in all. Rebecca Carson was the mother of Kit and nine other of those children.
The Carson family moved when Kit was 2 to what was then a new frontier, Franklin, Mo., to land owned by the famous explorer Daniel Boone, who was Kit's mother's cousin. Lindsey Carson died when Kit was 8, the victim of a falling tree. Young Kit left his schooling–never to return–set about finding work to support the family, eventually ending up as an apprentice in a shop that made saddles. It was there that he heard many stories about people traveling to the lands of the newly acquired Louisiana Territory. He set out on his own journey, to Santa Fe, and learned exploring and trapping skills along the way, courtesy in part of a friend of his father named Matthew Kinhead. Also along the way, Kit learned French, Spanish, and a variety of Native American languages, among them Arapaho, Cheyenne, Navajo, and Shoshone. His command of languages was expansive, despite the fact that he never learned to read or write.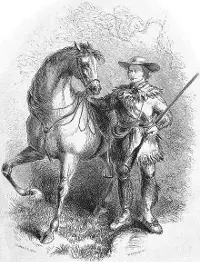 Carson stayed in Santa Fe for a time, working a series of odd jobs. He signed on with a group of trappers led by Ewing Young who traveled along the Santa Fe Trail, which began in Franklin, Mo., where Carson lived. Carson was a trapper for more than a decade, at times working for three famous trapping companies: the American Fur Company, the Hudson's Bay Company, and the Mountain Fur Company.
Carson traveled the West with Jim Bridger and other famous mountain men. He also worked with experienced trapper Thomas Fitzpatrick and, later, noted explorer John C. Frémont, for the Corps of Topographical Engineers. Carson became known for his accuracy in identifying geography, a skill that came in handy on the expeditions that he led. He and Frémont mapped the Great Salt Lake, the Oregon Trail and the Rocky Mountains. Frémont wrote a report on these expeditions that featured encounters with fierce grizzly bears, hostile Native Americans, and other antagonists; many people read this report, and Carson became famous. (In one episode of irony, Carson went after a group of Native Americans who had kidnapped a European woman in New Mexico and, when he found her, also discovered that she had a novel that featured him as a hero.)
In 1837, he married an Arapaho woman named Singing Grass. They had two children. He married two other times, once to another Native American woman, and once to a Mexican woman, and had numerous children.
He found work at Bent's Fort in Colorado, on the Santa Fe Trail. He hunted antelope, deer, and other animals. He returned to the fort several times in the next few years.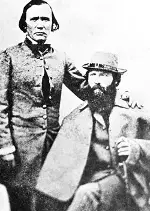 Carson and Frémont again joined up for a trip west, this time to California. They set out in 1845 and arrived in the middle of the Mexican-American War. They fought alongside American settlers in the Bear Flag Revolt, and then Carson fought in the U.S. Army in the Battle of San Pasqual, at one point rescuing the forces led by Gen. Stephen Kearney by walking barefoot through a desert to procure reinforcements. He later found work carrying official dispatches between California and Washington, D.C., and met twice with then-President James K. Polk.
After the war, he and a friend, Lucien Maxwell, set up a farm and ranch along the Cimarron River and on one branch of the Santa Fe Trail.
In 1853, Carson won an appointment as a federal Indian Agent for northern New Mexico; in this capacity, he clashed more than once with the way that territorial authorities were treating Native Americans and was ultimately removed from his position. At the same time, during this period of time, he played a part, sometimes brutally so, in convincing Navajo in the area to give up their lands and move to reservations.
It was in 1856 that Carson told his life story, not by writing it himself but by relating his adventures to someone else. The result was, eventually Memoirs, which was published long after Carson's death. The person who produced the manuscript out of Carson's notes somehow lost it; someone else found it in 1905.
Carson fought in the Civil War, for the Union. He led the 1st New Mexico Volunteers in the 1862 Battle of Valverde, in what is now New Mexico. He spent the next few years out West, fighting against Native Americans. About this time, several thousand Navajos went on their Long Walk from their homeland to a reservation at Fort Sumner, already home to a group of resettled Apache. He also fought a battle against a number of tribes in the Texas panhandle.
Carson was appointed commander of Fort Garland in 1866 and as Superintendent of Indian Affairs for the Colorado Territory in 1867. He died the following year, at 58, and was buried in Taos, N.M., where he had lived for a number of years. His wife had died just a month earlier.
A town, county, and military reservation in Colorado are named after him, as are a Nevada river and that state's capital. He is also the main character in a number of novels, movies, and TV shows.