Ken Mattingly: Former Navy Pilot, Apollo Astronaut
---

Share This Page

---
Follow This Site



Ken Mattingly was a former Navy pilot and astronaut who orbited the Moon on the Apollo 16 mission in 1972.
He was born on March 17, 1936, in Chicago. He grew up in Florida and attended school in Hialeah. He graduated from Miami Edison High School in 1954 and then went on to Auburn University, graduating from that university with a bachelor of science degree in aeronautical engineering.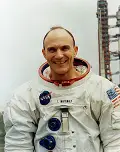 Mattingly joined the U.S. Navy in 1958 and was a pilot aboard aircraft carriers for a few years. In 1963, he attended Aerospace Research Pilot School. Three years later, he was selected to be an astronaut. In all, he logged 7,200 hours of flying time.
He was part of the support crew for Apollo 8 and was backup Command Module Pilot for Apollo 11. He was then named to be Command Module Pilot for Apollo 13. However, not long before blastoff, he and the rest of the primary crew and all of the backup crew were exposed to rubella, via one of the backup crew, Charlie Duke, whose child had the disease. Since Mattingly had no natural immunity to the disease, the National Aeronautics and Space Administration (NASA) decided to ground him. Jack Swigert replaced him in the Apollo 13 crew.
Mattingly never did develop rubella. He was one of those working nonstop on the ground to bring the Apollo 13 crew home when an explosion aboard on one of their aircraft changed the focus of their mission from Moonwalking to surviving the trip home. Mattingly, in particular, spent long hours in ground-based simulators, relaying his results to scientists who were trying to come up with solutions for keeping the space crew safe.
He got another chance at the Moon with Apollo 16, serving as Command Module Pilot.
As did the Apollo 15 crew, Young and Duke undertook extensive geological training, including field trips to various rock formations in New Mexico and in Canada. For his part, Mattingly trained by observing terrestrial geological formations from an airplane.
Launch date was April 16, 1972. The trip to the Moon was uneventful, and Commander John Young (right, center) and Lunar Module Pilot Charlie Duke set foot on the lunar surface on April 20. All the while, Mattingly was taking photos and performing other tasks in the orbiter.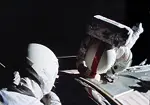 Also while in orbit, he was looking for his wedding ring. (He had married Elizabeth Dailey in 1970.) He had removed the ring at some point during the flight to the Moon and had lost track of it. He spent some of the time that Young and Duke were on the Moon looking for the ring but still couldn't find it. During the trip home, Mattingly did a deep space EVA, to retrieve film cassettes from the outside of the spacecraft and to deploy an experiment. It was then that he found the ring, floating out of the capsule. It bounced into Duke's helmet and caromed back inside the spacecraft. He didn't let it out of his sight after that.
Splashdown was April 27. The crew was safe at home. Mattingly carried on working for NASA, transitioning to the Space Shuttle program. He was the Commander on the fourth flight of the first operational shuttle, Columbia; that flight launched on June 27, 1982, for a seven-day mission. He was also the Commander of another shuttle mission, aboard Discovery in January 1985; that mission was notable for carrying a secret payload from the U.S. Department of Defense.
Mattingly retired from NASA in 1985 and from the Navy in 1986, having achieved the rank of rear admiral. He continued his involvement with the space program in the private sector, working at Grumman, General Dynamics, and Lockheed Martin. He has worked most recently for a defense contractor. He also has served as chair of the Universal Space Network.