Jack Swigert: Former Astronaut, Crewman aboard Apollo 13
---

Share This Page

---
Follow This Site



Jack Swigert was a military test pilot and astronaut, part of the crew of Apollo 13 that survived a mid-mission explosion and returned safety to Earth in 1970.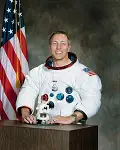 He was born on Aug. 30, 1931, in Denver. An early interest in flying led to his taking flying lessons and, by age 16, earning his pilot's license. He studied at local schools, graduating from Regis High School in 1949 and the University of Colorado in 1953, with a bachelor of science degree in mechanical engineering. He was also a star football player, in high school and in college.
Swigert joined the Air Force in 1953 and served in both Japan and South Korea, surviving a crash in that country and walking away with minor injuries. When he returned to the U.S., he was a jet fighter pilot with the Connecticut and Massachusetts Air National Guards and then a test pilot for North American Aviation.
Returning to his studies, Swigert earned a master of science degree in aerospace engineering from the Hartford campus of the Rensselaer Polytechnic Institute and a master of business administration degree from the University of Hartford.
He joined the National Aeronautics and Space Administration (NASA) in 1966 and was the Command Module Pilot on the ill-fated Apollo 13 mission, which abandoned their primary goal of landing the crew on the Moon and then battled through adversity to make it home safely. Swigert was a late addition to the crew, having replaced Ken Mattingly because of the latter's having no immunity to rubella, to which he had been exposed.
Two days in, on April 13, 1970, the crew had just finished a TV broadcast that explained what it was like in the spacecraft and what their mission would entail when they got to the lunar surface when NASA controllers noticed a warning signal on a hydrogen tank in the orbiting craft, which was named Odyssey. Warning signals and lights were not uncommon on Apollo mission; some had been problems that had been overcome, and others had been false alarms.
After a discussion between crew and Mission Control, the astronauts proceeded with what they thought would be a routine procedure. Swigert flipped a switch in order to turn on the hydrogen and oxygen tank stirring fans, and moments later the crew felt a large jolt. What happened was a series of bad news: warning lights lit up across the board, on the spacecraft and back at Mission Control, showing a drop in power and oxygen pressure.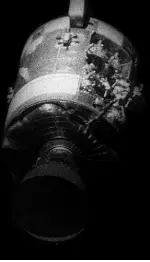 Swigert was the one who radioed the news to NASA, saying, "Houston, we've had a problem here." The problems were many. One of the most critical was that the sharp jolt that the crew had felt was actually an explosion that had blown a large hole in one oxygen tank and slightly damaged another. The spacecraft ran on oxygen, which was why the power had been cut. The spacecraft was venting oxygen, and they didn't exactly have a huge backup supply. They would need it not only to power their machines but also to breathe.
One of the first decisions that they made was to turn Aquarius, the Lunar Module, into a "lifeboat," a substitute living quarters for the return flight (a scenario that had been suggested during a training scenario but deemed unlikely). It would be cramped quarters, since the little craft was built to house two astronauts for only a couple of days, but Haise and Lovell quickly went to work getting it ready to receive all three of the crew. Swigert stayed behind in Odyssey, shutting down everything in sight in order conserve power for the last stage of the journey, then joined the other two in cramped Aquarius.
Employing workarounds created on-the-fly by Mission Control scientists, the crew kept the oxygen levels just high enough and the carbon dioxide levels just low enough for them to survive the four-day return journey. Then, they managed to coax the powered-off Command Module to reboot, climbed back into it, and made it through the Earth's atmosphere to a successful splashdown.
In 1973, Swigert became executive director of the U.S. House of Representatives Committee on Science and Astronautics. He resigned from that position and from NASA in 1977 in order to run for the U.S. State, a race that he did not win.
After stints as an executive in the private sector, in 1982 he ran for a seat in the U.S. House and won. He did not take office because he died of cancer, on Dec. 28, 1982.
The recipient of numerous honors and awards (including the Presidential Medal of Freedom), Swigert had an aerospace academy named after him. In addition, a statue of him stands in the U.S. Capitol Building (and a duplicate stands at Denver International Airport).