---
Hattie Caraway: America's 1st Elected Female Senator

On This Site
Share This Page

---
Follow This Site



Hattie Caraway was the first woman elected to the U.S. Senate. She won election in 1932.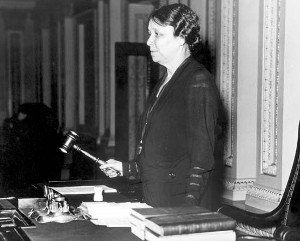 She was born Hattie Ophelia Wyatt in Bakerville, Tenn. Her father was a farmer; her mother was a shopkeeper. Hattie graduated from Dickson Normal College and then was a schoolteacher for a few years.
She had met Thaddeus Caraway while they were in college. They married in 1902, and she took his last name. They eventually had three children, two of whom were Army generals.
The family moved to Jonesboro, Arkansas, where Thaddeus opened a law practice. He entered into politics, winning election to the U.S. House in 1912. He served four terms and was then elected to the U.S. Senate, in 1921.
When Thaddeus died in office in 1931, Arkansas Governor Harvey Parnell appointed Hattie to succeed her husband in the Senate. (This was a not uncommon occurrence in those days.) She served a few months, then won a special election, on Jan. 11, 1932. She then won election in her own right in November of that year. Six years later, she was re-elected. Her next re-election bid was unsuccessful.
Caraway was the first woman to chair a Senate committee, in 1933, and the first woman to preside over the Senate, in 1943.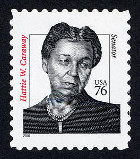 President Franklin D. Roosevelt appointed Caraway to the Employees Compensation Commission; she served on a similar board two years later, appointed by President Harry S. Truman.
Hattie Caraway died in 1950, after suffering a stroke. Her gravesite is on the National Register of Historic Places. She appeared on a U.S. Postal Service stamp in 2001.
The first woman ever to serve in the Senate was Rebecca Felton of Georgia, who was appointed to the position in 1922 but did not run for election. The first female of the House of Representatives was Jeannette Rankin, who was elected to the Montana delegation in 1917.