Christy Mathewson: Baseball's Turn-of-the-century Titan
---
Christy Mathewson was the dominant pitcher in the Major Leagues in the earliest part of the 20th Century. A 17-year veteran, he was one of the first five players elected to the National Baseball Hall of Fame.
Mathewson, whose given name was Christopher, was born in 1880 in Pennsylvania and made the jump to semi-pro baseball when he was just 14. He proved adept at baseball and football, playing both sports in high school and college (Bucknell University).
A confident pitcher, he showed early success at the next level, minor league ball, in 1899, winning 20 games against just 2 losses. The National League's New York Giants were so impressed with what they saw that offered Mathewson a contract with the Major League team. Mathewson appeared in six games for the Giants, losing three of them, and the Giants sent him right back to the minor leagues. He was traded to the Cincinnati Reds, who kept him for awhile and then sent him back to the Giants in a trade.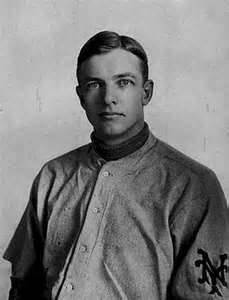 In 1901, Mathewson won 20 games but lost 17. The Giants manager at the time, Horace Fogel, ordered Mathewson to practice at other positions, in case he couldn't make it as a pitcher. Fogel was replaced as manager in mid-1902 by John McGraw, who went on to become one of the game's managerial giants. McGraw put Mathewson back on the mound full-time, and the result was a Hall of Fame career. Each season from 1903 to 1914, Mathewson won 22 games or more.
His most famous efforts were in the 1905 World Series. During the season, he had led the National League in wins, strikeouts, and earned run average (ERA) and had also thrown a no-hitter. Against the Philadelphia Athletics, the American League champions, Mathewson pitched three shutouts, giving up just 14 hits in 27 innings. In a span of just six days, he won the first, third, and fifth games, propelling the Giants to a 4-1 win in the best-of-seven series.
That was the only World Series championship for Mathewson, but he went on to win 373 wins in total, against 188 losses, with a career ERA of 2.13. He threw a total of 79 shutouts.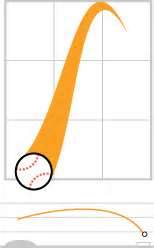 He showed impressive command throughout his career, recording 2,507 career strikeouts and only 848 walks. He had a speedy fastball and made good use of a specialty pitch that he called the "fadeaway." This pitch later came to be called the "screwball" because of the way it "turned." At a very basic level, pitchers throw pitches that either go straight or "break." The fastball and the change-up (with some exceptions) go straight over the plate. Other pitches, like the curveball and the slider, are called breaking balls because they follow a not-so-straight path from the pitcher's hand to home plate. In general, a ball thrown by a right-handed pitcher will "break" away from a right-handed hitter; the same can be said for a left-handed pitcher throwing to a left-handed hitter. Mathewson's "fadeaway" was a pitch that "broke" toward a right-handed hitter, something that most right-handed hitters wouldn't be expecting.
Mathewson threw this pitch with a strong twist of his arm, but he threw with so much speed that hitters would have had a hard time picking up that strong arm twist and then changing their swing to accommodate for the unexpected "break" of the pitch. Mathewson later said that it was the threat of the "fadeaway" that proved more lethal than its use.
His most successful year in terms of statistics came in 1908, when he won 37 games, recorded 259 strikeouts, and had a league-leading ERA of just 1.43. That season, he had 12 shutouts. The Giants, however, finished one game behind the Chicago Cubs and so missed the World Series. (Unlike today's system, the playoffs in those days consisted of the top-finishing team in each league meeting in the World Series.)
A deeply religious man, Mathewson refused to play on Sunday throughout his career. At the time, the National League, to which Mathewson's Giants belonged, had only eight teams, of which only three played home games on Sunday; thus, it wasn't a hardship for Giants management to accommodate Mathewson's request.
He played briefly for the Red in 1916 and also served as the team's manager. He also wrote a book about baseball, called Pitching in a Pinch, which was published in 1912.
Mathewson enlisted in the U.S. Army in 1918. Serving overseas with a few other athletes, including Ty Cobb, Mathewson suffered inhalation of chemical gas during a training exercise and later developed tuberculosis, from which he died in 1925. He left behind his wife, Jane, whom he had married in 1903.
In 1936, he was one of the first players inducted into the Baseball Hall of Fame, along with Babe Ruth, Ty Cobb, Walter Johnson, and Honus Wagner.