---
An 88-game Winning Streak
---
The men's basketball team at the University of California-Los Angeles (known as the Bruins) won a game on January 30, 1971, defeating the team from the much smaller school Cal-Santa Barbara 74-61. It was in the middle of the season, and the Bruins were expected to win. They did. But what they did next was truly amazing. They won the next 87 games before losing. For three years, they went undefeated. This included all of the games in the national championship tournament, for three years running.
UCLA certainly had the dominant team in men's college basketball during this time. This was during the time when the highly successful John Wooden was the coach. Wooden's team won 10 national championships in 12 years, including seven in a row.
But the 88-game winning streak was something special.
The team, led by All-American center Bill Walton (left) didn't win all their games by commanding margins. Two were one-point victories. Including those two, 19 of the 88 were by less than 10 points. The Bruins had their share of blowout wins, but they had to work hard all the same to keep the winning streak alive.
The end of the streak came on Jan. 28, 1974, at the hands of Notre Dame. The Fighting Irish were the No. 2-ranked team in the country (behind UCLA, of course), and the game was on Notre Dame's home court, in South Bend, Ind. It was a thriller. The Bruins might have thought that they had the game won, with an 11-point lead very late in the game. But the Irish scored 12 straight points and won the game, 71-70.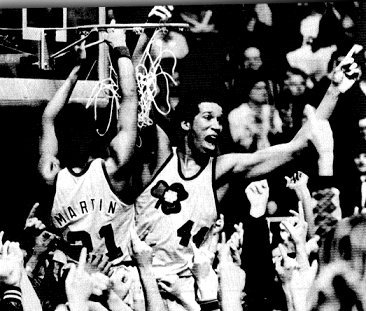 The Bruins rebounded, of course, and made it all the way to the Final Four. That year, however, they did not win the national championship, losing to eventual champions North Carolina State in the semifinals. UCLA rebounded the following year to win it all, in what would be Wooden's final year as coach.
UCLA's back-to-back undefeated seasons (1972 and 1973) were part of that 88-game winning streak. Each of those years, the Bruins won 30 games. The team also went 30-0 in 1964 and 1967 and won the national championship both years.
The last undefeated season in men's basketball was Indiana, in 1976. That year, the Hoosiers, led in large part by Quinn Buckner (left), won the national title, their 32nd win. That was the same number of victories that the 1957 national champions North Carolina Tar Heels recorded in American college basketball's first undefeated season.
Women's college basketball has seen two undefeated seasons in the past two decades, both turned in by perennial powerhouse Connecticut. The Huskies completed perfect seasons in 1995 and 2002. From 2001 to 2003, UConn, led by Diana Taurasi (right), won 70 straight games.