---
The Yangtze River
---
The Yangtze is the world's third-longest river at 3,917 miles. Its source is on the Qinghai-Tibet Plateau, in western China. Its mouth is the East China Sea, near Shanghai.
The Yangtze flows through nine provinces of China and drains an area equal to 695,000 square miles of land.
The river has served as a means of transportation for 2,000 years. Settlements sprang up on the banks of and near the Yangtze River very early in the history of human civilization. Large ships can still sail 1,000 kilometers inland; steamers can go even farther, as far as 1,600 kilometers from the sea. The river is also used for sight-seeing tours and for private travel.
The river is also a bringer of commerce. In its annual travels, the Yangtze brings huge amounts of silt on shore in the Jiangsu Province, where rice is grown. This large plain is home to a large part of the world's rice production.
The Yangtze also passes through the Three Gorges (Qutang, Xiling, Wu), a beautiful region that has been known more recently for a series of dam projects that have created controversy and struggles between developers and environmentalists.
Facts About the Yangtze River
| | |
| --- | --- |
| Length | 3,917 miles |
| Source(s) | Qinghai-Tibet Plateau, China |
| Mouth | East China Sea, near Shanghai |
| Countries Flows Through | China |
| Major Cities Flows By/Through | Shanghai, Congqing, Wuhan, Nanjing |
| Where Name Comes From | Chinese Chang-jiang, meaning "Long River" |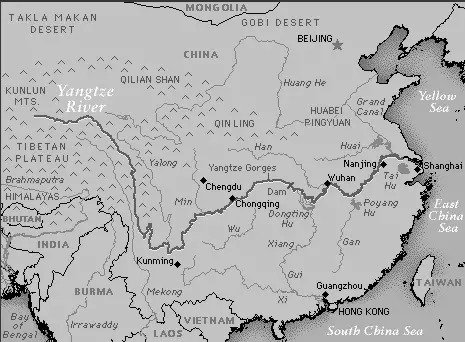 Graphics courtesy of ArtToday
---