---
The Congo River
---
The Congo is the world's eighth-longest river at 2,914 miles long. It begins at the junction of the Lualaba and Luvua rivers, in the Altai Mountains, and flows southwest to the Atlantic Ocean. Major tributaries include the Aruwimi, kasai, and Lomami rivers.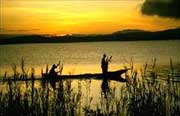 The river forms most of the border between Zaire and the Republic of Congo and drains more than 1,600,000 square miles of land. The river has a width in a range of 0.5 to 10 miles.
The Congo River gets up to 90 inches of rainfall a year. It has within its banks 30 waterfalls and thousands of islands, at least 50 of which are more than 10 miles in length.
Because the river flows for the most part near the Equator, the area around it is very hot. Much of the land surrounding the river is tropical rain forest and is home to hundreds of

kinds of animals, including hippos, manatees, water snakes, crocodiles, tortoises, pigs, elephants, and 200 species of fish. In addition, insects such as mosquitoes and gnats are prevalent in the hot, humid conditions.
It's not all tropical rainforest, though. Some parts of the surrounding land are full of long grass called "barnyard grass." Many animals graze in this tall grass, including buffalo, antelopes, zebras, gazelles, and giraffes.
People live along the river and in the river basin as well. They fish in the river. They use it for irrigation to help water their peanut, cotton, tobacco, and sugarcane crops, all of which grow quickly in the humid air.
Just as has been done for hundreds and hundreds of years, people today use the Congo River for transportation, of both people and goods. It is not an uncommon sight to see a barge that is carrying wood or fuel or crops going up or down the river. With gasoline-powered barges, however, comes pollution.
Facts About the Congo River
| | |
| --- | --- |
| Length | 2,914 miles |
| Source(s) | Junction of Lualaba and Luvua Rivers |
| Mouth | Atlantic Ocean |
| Countries Flows Through | Republic of Congo, Zaire, Angola, Zambia, Cameroon, Tanzania |
| Major Cities Flows By/Through | Novosobirsk, Barnaul, Mogochin, Akademgorodok |