---
California Girl, 12, Wins National Spelling Bee

Share This Page

---
Follow This Site



Ananya Vinay, a 12-year-old from Fresno, Calif., has won the 2017 Scripps National Spelling Bee. She outlasted all other spellers, winning in the 36th round of finals competition.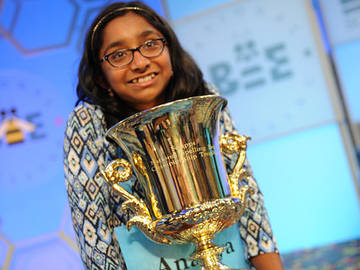 Ananya, who finished in the top 50 in the 2016 bee, is now in the 6th grade at Fresno's Fugman Elementary School. She was one of 291 spellers who took part in the main event, Bee Week, at the Gaylord National Resort and Convention Center in National Harbor, Md.
After a few early rounds, including a written test, 15 students advanced to the final rounds. Ananya needed 21 rounds to outlast all of her opponents. The bee had created a written tiebreaker test this year, but the competitors didn't complete the maximum 25 championship rounds.
Ananya spelled marocain correctly to secure the victory. She receives $40,000, as well as an engraved trophy, a $2,500 U.S. Savings Bond, a set of reference works from Encyclopedia Brittanica worth $400; and a complete reference library from Merriam-Webster.
Other words that Ananya spelled correctly on her march to victory: apagoge, arribada, cavaquinho, equipluve, and pykrete.
Placing second was Rohan Rajeev of Edmond, Okla.; in third place was Mira Dedhia of Western Springs, Ill.
Ananya is the 13th consecutive Indian-American winner of the National Spelling Bee and the 18th in the past 22. She is the first single winner since 2012; the national competition crowned co-champions in 2014, 2015, and 2016.)
Oklahoma's Edith Fuller, who at 5 set the record for the youngest ever competitor, didn't make it into the fourth round because of a low score on a written preliminary test.