---
5-year-old Qualifies as Youngest-ever Speller at National Bee

On This Site
Share This Page

---
Follow This Site



May 22, 2017
For the second year in a row, a contestant will set the record for the youngest ever to compete at the Scripps National Spelling Bee. This year's record-setter is Edith Fuller, from Tulsa, Okla. She is 5.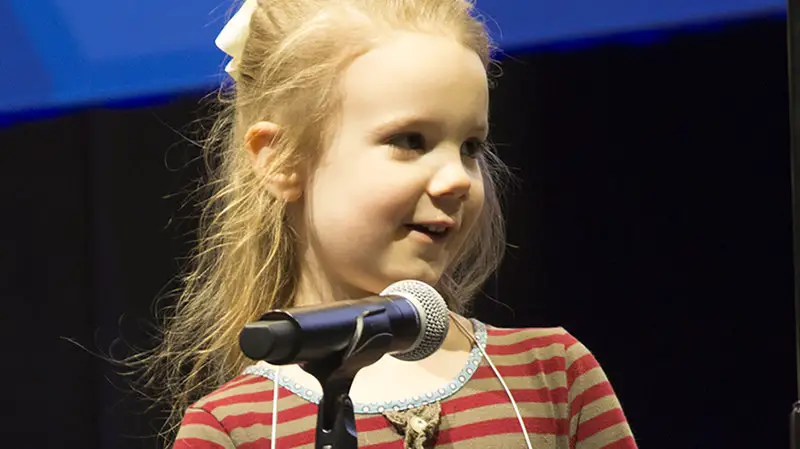 Fuller performed better at the Oklahoma northeastern regional bee than dozens of other competitors, some more than twice her age. She correctly spelled 37 words in five hours of competition. Her final correctly spelled word was "jnana," a Sanskrit word that means an elevated state of knowledge. Other words Edith spelled correctly include alim, colloquial, jacamar, minaret, nisei, odori, sevruga, and virgule.
National Spelling Bee organizers Scripps say that contestants cannot be 15, cannot have completed the 8th grade, and cannot be previous winners. No minimum age has been set. Akash Vukoti set the record in 2016, when she was 6.
This year's national bee, the 90th, will take place May 30 to June 1 at a convention center in National Harbor, Md.
At the Oklahoma regional bee, Edith was much calmer than several other competitors, at one point even venturing into the crowd to give a water bottle to a family member. She progressed quietly (speaking in a soft yet steady voice) and calmly through 18 rounds to the final three, then was the last competitor standing after the other two misspelled a word.
Edith said that had she spent a lot of time every day practicing her spelling and that she would continue to do so, although she did say that she might venture outside a bit as well.