Shared Supremacy: National Spelling Bee Ends in a Draw
---
June 6, 2014
In the end, two stood alone, having exhausted the list.
Sriram Hathwar, an 8th-grader from Paint Post, N.Y., and Fort Worth, Texas, 7th-grader Ansun Sujoe were crowned co-champions of the Scripps National Spelling Bee after the examining board ran out of words for the students to spell.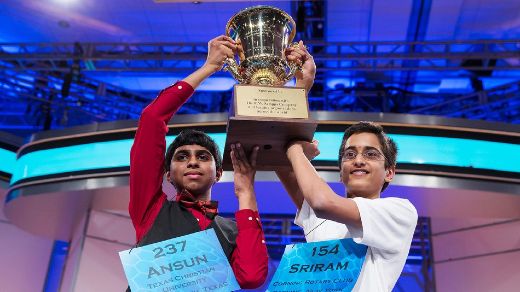 Hathwar, in his fifth Spelling Bee, had boasted a best-ever third-place finish in 2011. He misppelled corpsbruder in the final round and looked to be out of it. However, Sujoe also misppelled his final word, antegropelos. They continued on, both spelling their last word (stichomythia for Hathwar and feuilleton for Sujoe) correct. (See below for definitions.)
The result was the first shared title since 1962 and only the fourth in the 89-year history of the event. At the event, broadcast live on ESPN, both Hathwar and Sujoe hoisted the champions trophy. They both got to take one home, though, and they both got the winner's total monetary amount, which was $33,000 in cash and other prizes.
Gokul Venkatachalam of Chesterfield, Mo., finished third.
The result marked the eighth straight victory by a student of Indian descent and the 13th in the past 17 years.
In all, contestants numbered 281, all 50 U.S. states and from American Samoa, the Bahamas, Canada, China, Ghana, Guam, Jamaica, Japan, Puerto Rico, South Korea, the U.S. Virgin Islands, and the Department of Defense Schools in Europe.
Contestants ranged from ages 8 to 15. The gender split was 51 percent girls and 49 percent boys.

Definitions
corpsbruder: close comrade
antegropelos: waterproof leggings
stichomythia: dialogue in which two characters speak alternate lines of verse
feuilleton: features section of a European newspaper or magazine

Custom Search

Social Studies
for Kids
copyright 2002-2014,
David White
---