---
Space-age Tech Unearths Silk Road Irrigation Site

On This Site
Share This Page

---
Follow This Site



January 14, 2018
Archaeologists have found evidence of long-ago irrigation in one of the driest deserts on Earth.
The desert is the Taklamakan, China's largest, encompassing more than 130,000 square miles and stretching 620 miles in length. At its widest, the Taklamakan is 250 miles. Known as the "Place of Ruins" or the "Sea of Death," the desert records an average annual rainfall of 1 centimes, or 0.4 inches.
The group of archaeologists, led by Washington University's Yuqi Li, augmented their study by analyzing satellite images of the foothills of the Tian Shan Mountains, which border to the Taklamakan Desert to the north. The area was home to routes leading to the ancient Silk Road, which connected China to Europe for hundred of years.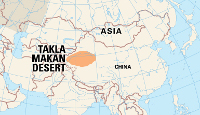 Of particular interest was a region known as Mohuchahangoukou, which the researchers dubbed MGK. The satellite images of that area showed outlines of irrigation at work, in the form of canals, cisterns, and dams–all channeling water to a group of fields that would have housed farms.
Irrigation systems of similar style and size have been found in other countries, notably in what are now Iran, Jordan, and Turkmenistan. Larger and more sophisticated irrigation systems have been elsewhere along the Silk Road network, including within China.
Other evidence of Silk Road influence came in the form of a number of well preserved mummies, found in 1980; the oldest mummy, dating to 3,800 years ago, was referred to as the "Beauty of Loulan."