---
Team Ruff Back on Top in Puppy Bowl
On This Site
Share This Page

---
Follow This Site


February 3, 2019
Team Ruff returned to their winning ways with a thrilling 59–51 victory in Puppy Bowl XV. The win by the Ruff-sters broke a two-year winning streak by Team Fluff.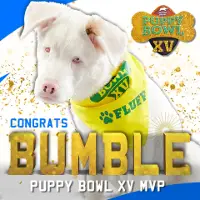 Team Ruff Captain Bennett accepted the Lombarky Trophy on behalf of the team. (In one of many parallels between the Puppy Bowl and the Super Bowl, the winners of the football championship get possession of the Vince Lombardi Trophy.)
MVP Bumble led Team Ruff to victory, becoming the first special needs dog to win the award. Bumble, a Lab-Chow Chow mix who is deaf and vision-impaired, was unstoppable.
Defense was a bit lacking, as both sides scored early and often, combining for 58 points in the first half alone. Team Fluff, powered by Emmitt and Australian Cattle Dog/Boykin Spaniel mix, went into the locker room at halftime leading 30–28.
The halftime entertainment included the Acrocats and Purr-oon 5.
Team Ruff took the game by the scruff of the neck straight out of the locker room, going on a 28–7 run and taking a commanding 56–37 lead. Team Fluff relied on their experience to storm down the field twice, scoring two late touchdowns and putting the game within reach. But Bumble capped off her MVP performance with a field goal to make an eight-point game.
As before, all four-legged athletes were from shelters. This year, the total was 93 dogs from 51 shelters in 23 states and Costa Rica and Puerto Rico.
Also as before, Dan Schachner was the referee, trying to keep order on the field. Mascots this year were a capybara, a kangaroo, and a porcupine.